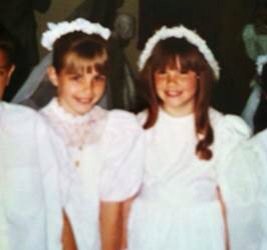 *Frigid and I at our first communion – the last time we wore white #demons
As you could tell from all the incriminating photos and videos that are still surfacing; I was in Tampa all weekend for my best friend, Frigid's, bachelorette party. We've been inseparable since pre-school, so it's safe to say we've been planning this for 25 years. The trip was so epic that I've had to break it down into multiple posts because I don't want to overwhelm you with ridiculousness. To ensure you don't get lost in the story, I've broken down all who attended said weekend:
Frigid: The bride-to-be. I've decided to use 'Frigid' as her GG name for no reason other than that it rhymes with her real name, and also the deuschy guy I had to flirt with in order to get a cheap rental car asked if people ever call her that after he looked at her license. Um, no, sir in the purple shirt trying to upgrade my swagger wagon; they don't
Bow-Wow: Frigid's little sister and the main reason we flew to Tampa for a weekend of ass shaking, beer drinking, chicken wing filled fun – homegirl finished her freshman year at UTampa last Friday and we wanted to make sure she was involved in all wedding festivities. Also, Frigid and I promised to road trip it back from Florida with her as she had to move all her shit home for the summer..bad idea..bad idea..
Pookahontus: my little sister
Shrinking Sammy : my older sister
Buddy: she's just buddy
Krazy Kurls: Frigid and Bow-Wow's cousin
Nougat: Bow-Wow's bestie from home who flew down to do hood rat things while us older betches were at the bars/clubs they couldn't get into
Frigid, Shrinking Sammy and Buddy showed up at my apartment at 4am to head to Logan. Frigid was already drunk and no one had slept. She immediately admitted that she forgot to pack underwear and smelled like booze so bad that I eventually forced her to spray hand sanitizer all over her body and to stop speaking until we got through security. Once on the plane I passed out because I'm minorly narcoleptic and Frigid watched True Life: I'm a crazy girlfriend.
We landed and almost immediately got lost in the airport, then realized we booked a rental car through a pretend company that didn't exist. Fear not, betches: The Glitter Ginger headed to the Avis counter to work her magic on the most appropriate target: a tall, thin, greasy haired man-child rocking a bright purple shirt and the look of desperation. Game On. I found out his name was Jacob and asked him if he liked Twilight – 20 minutes later we had a mini van and a confidence boost.
We headed to the condo and began crushing beers while changing into bathing suits and packing for the beach. We set up shop in the sand and within 30 minutes Frigid was unconscious in her beach chair.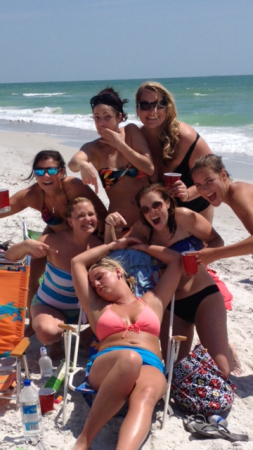 Right after Nougat took this picture I fell on top of Frigid because I was too drunk to stand and woke her up. She pounded another beer. We decided we were hungry so packed back into the swagger wagon and headed to a beach bar for shitty food and cold beer. We had a pretty serious dance party in the back seat and I ended up cutting my leg open and bleed on my beach cover up. Not the first time.
Once inside the bar, I was so drunk that I apparently felt bad Frigid was the only person in our group that smoked cigarettes so told her I would smoke one, too, because friends don't let friends smoke alone. What? Shrinking Sammy obviously recorded me because she's worse than the paparazzi and posted that shit everywhere. I think the commentary in the back is my favorite..you hear Pookahontus call me a "cubby rat", Nougat reminding me that sunglasses don't make me invisible and Bow-Wow telling me I smoke cigarettes like blunts.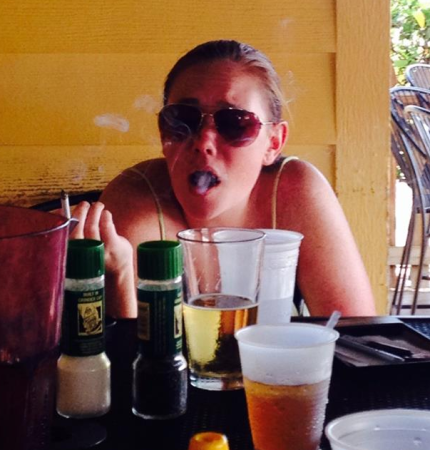 We went home to shower and instead of showering I ate wheat thins and took a nap. We got picked up in a Hooters cab by a guy that was instantly obsessed with us and weird had stuffed animals everywhere. But he let us drink and scream Alicia Keys at the top of our lungs so he was cool. Bow-Wow sat on my lap and fed me vodka through a straw. Everyone made me pose and take pictures with a stuffed frog. I'm going to stop here because our first night out could be an entire post in itself …
Stay tuned, psychos.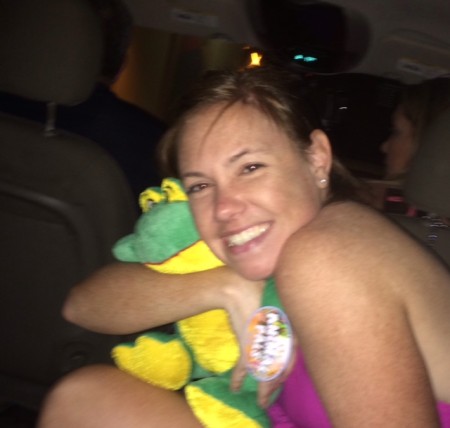 Facebook: The Real Cape
Twitter: Hippie - Insane Tony