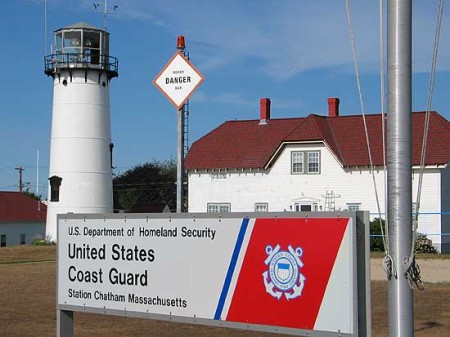 uscgnews – An off-duty Coast Guardsman assigned to Coast Guard Station Chatham in Chatham, Mass., responded to six distressed mariners in the water near Jones Inlet, N.Y., today.

Coast Guard Sector Long Island Sound Command Center was notified at approximately 5:20 p.m., via VHF Channel 16, saying that a 38-foot pleasure craft was tipped over with the motor still running and six mariners in the water just south of the Greenport Ferry North Terminal.

Petty Officer 3rd Class Patrick O'Halloran, 27, a boatswain's mate at Station Chatham, was nearby on a private vessel and was the first on scene at 5:24 p.m., to assist the mariners out of the water.

"I've been in the Coast Guard for three years and it was unreal watching this happen in front of me," said O'Halloran. "I realized I needed to make sure they were safe and that the boat was away. Once I saw they were okay, I made my approach and pulled them out of the water."
Oh no biggie, just Cape Cod saving lives by the half dozen. Our Coasties are so bad ass that they keep the waters safe in other states. Just Cape Cod doing Cape Cod things right in New York's face.
Facebook: The Real Cape
Twitter: Hippie - Insane Tony