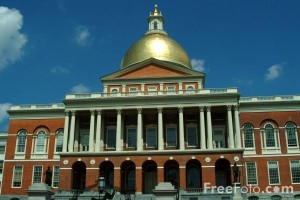 Full Story – Gov. Deval Patrick on Monday filed a lawsuit seeking to block a proposed gaming facility on Martha's Vineyard.

Patrick is asking the Supreme Judicial Court to affirm a 1983 land settlement between the Commonwealth and the Wampanoag Tribe of Gay Head in which the state contends the tribe forfeited its right to tribal gaming on the island.

The Aquinnah Wampanoag last month released an opinion sought by the tribe from the National Indian Gaming Commission that found the tribe had rights to operate a gaming facility on its tribal land on Martha's Vineyard without a license from the state.

Citing that opinion, the tribe announced plans for a temporary gaming parlor as soon as possible on the site of an unfinished community center in Aquinnah, and said it would petition the Patrick administration to open gaming compact negotiations for a full-scale casino on the island.
You know I always look for the silver lining in things. If you think about this, it is really a sign of progression. Control of gambling revenue used to be something that was fought over by the old boy network on capital hill. Connected old men with expensive suits would pass laws and give out lucrative jobs at the Mass Lottery to their cronies.
But now fights that were once reserved for old crusty white dudes are being argued by those who were once not even in the discussion. Just the realization that the next sentence I write is a factual statement today is a sign of growth.
In the battle over the legal control of millions and possibly billions of dollars, we just had a black dude sue the Wampanoags.
Just imagine if you said that sentence to the people in power 50 years ago. They would laugh in your face, at least now it's just another sentence.
Facebook: The Real Cape
Twitter: Hippie - Insane Tony