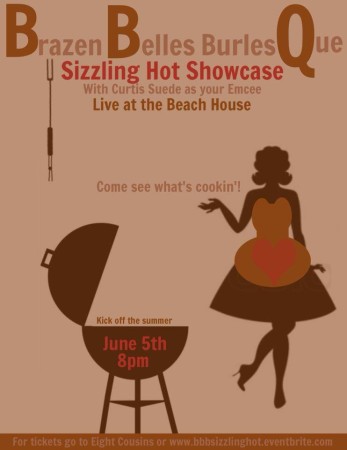 Word on the street is that the Brazen Belles are breaking out a bunch of hot new numbers at their Sizzling Hot Showcase tonight. For those of you who've seen a Belles show I don't have to explain to you what they mean by "sizzling hot". For those of you who haven't seen a Belles show yet… well I just plain feel bad for you, you have NO IDEA what you are missing.
Bring your appetite as they serve up some seduction, wit and a whole lotta sass. Come see what's cooking tonight at The Beach House 8pm-10pm and stick around after to dance your ass off to The Daniel Byrnes Band.
Visit the official event page for more information. Tickets are available at Eight Cousins Books or CLICK HERE to buy them online.
P.S. If you have been living under a rock and haven't yet heard about the awesomeness of a Brazen Belles show you can read our full review HERE.
Facebook: The Real Cape
Twitter: Hippie - Insane Tony