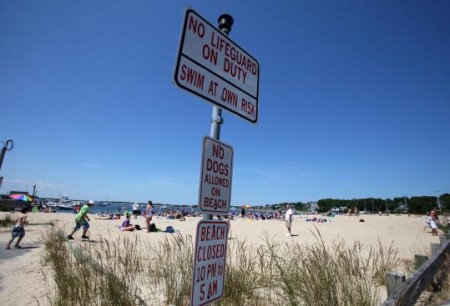 CapeNews.net – The number of town beaches that will have lifeguards patrolling them this summer will be reduced from four to two.

That was the message delivered to the Bourne Finance Committee by town recreation director Krissanne M. Caron at Monday night's finance committee meeting.

Ms. Caron presented the committee with a recreation department budget for next year of $169,119, a roughly 20 percent decrease from this year's budget of approximately $211,000.

The drop in the recreation department's budget is a by-product of town administrator Thomas M. Guerino's austere overall town budget.
Folks obviously town administrators are smarter than us. They are in a very important position so they must know what they're doing when they cut the budget for the single greatest asset any town on Cape Cod has. Beaches are so last year anyway, I hear people on vacation on Cape Cod don't even care about beaches anymore, they all come here for the skydiving and the shark tournament… hey wait a minute…
I mean even if this issue was of any importance to any of the common peasants, it's not like anyone said anything. How was Thomas Guerino to know if people on Cape Cod care about beaches at all let alone their staffing?
Mr. Guerino said that residents made it clear within the last couple of years, at town meeting, that staffing the beaches with lifeguards is a priority. He noted that some residents were unsuccessful in trying to dictate where guards would be posted, but they were successful in getting the town to fund the positions.
Oh, well yeah, but I mean how was he supposed to know that they were serious? I mean he is a town administrator, I doubt that it says anything about actually paying attention to the will of the people in his job description.
All kidding aside, this is another shining example of a total lack of common sense in Cape Cod political decision making. If you asked 100 people outside of this peninsula to say the first thing that comes to their mind when they hear the words Cape Cod, 98 of them would say "the beach". Now wouldn't common sense tell you that maybe the beaches might be kind of an important thing to keep running smoothly?
But hey, just because the residents of a town specifically make it clear that something is a priority for them, that's no reason for a town administrator to be bothered to leave room in the budget for it, right?
Facebook: The Real Cape
Twitter: Hippie - Insane Tony