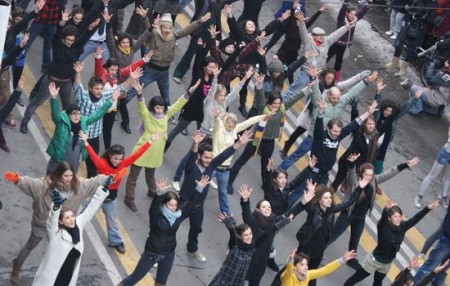 CCT – The Town of Barnstable is seeking residents and visitors interested in shaking their booty in celebration of the town's 375th. Participants of all ages are encouraged to be part of a celebratory flash mob dance. The 8-minute interactive dance will be performed at the Founder's Day Picnic on Sunday, September 21 on the Hyannis Village Green on Main Street.

The Town of Barnstable 375 Committee is hoping for 375 dancers. Volunteer Michele Colley is coordinating and choreographing the performance.

Anyone interested in participating must either register at a rehearsal or email Michele Colley at [email protected].
Umm… hey Barnstable? I don't claim to be an expert or anything, but I'm like 387% sure that this is not how a Flash Mob works. I'm pretty sure a Flash Mob is supposed to take unsuspecting people by surprise. Therefore, having articles in large publications that specify the exact date and location of a Flash Mob, inherently immediately nullifies its status as a Flash Mob.
Your picnic sounds fun, and I'm sure that your dance recital will be great, but let's not lose sight of the fact that it is indeed a DANCE RECITAL, not a Flash Mob. To recap…
Flash Mob = surprises unsuspecting people unaware of what is happening
Dance Recital = takes place at a publicized time and location with an audience fully aware of what is going on
P.S. This is great news for people that are interested in "shaking their booty" at a town picnic huh? How often does an opportunity for that segment of the general population come along? Once, maybe twice a decade?
Facebook: The Real Cape
Twitter: Hippie - Insane Tony