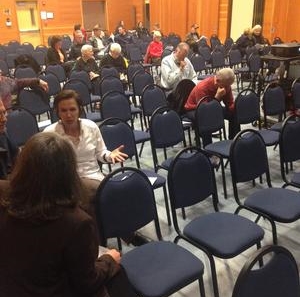 TRURO

— Truro's special town meeting was postponed indefinitely Tuesday night after a meager public turnout failed to produce a quorum.
With only 65 voters in attendance, the meeting was called off roughly 15 minutes after the scheduled 7 p.m. start time.

A quorum of 100 or more residents is required to call a town meeting to order in Truro.

Shortly after 7 p.m., Town Moderator Monica Kraft took to the podium to implore the last-minute recruitment of residents not in attendance.

"If you know anybody you can muster up, would you please give them a call now?" she asked.

The request failed to produce much action from the sparse audience and Kraft announced the meeting's postponement less than 10 minutes later.
Come on Truro you have to do better than this. You can't have your Town Hall looking like the stands at a Pop Warner football game between a Siberian orphanage and a foster home for lepers. Maybe it's time to change tactics. Maybe you could do one of those sting operations where the police tell people with warrants that they won a free X Box or TV, but when they get there, SURPRISE now you have to vote on the proposed 2 1/2 % tax limits!
Or maybe offer free beer, shit I could get more than 65 people to show up at a bobbing for piranha party if I offered free beer.
The saddest part might be when the town moderator pleaded to the attendees that "If you know anybody you can muster up, would you please give them a call now?" Not a good look having to beg. There is nothing worse than going to that party at a friends house that nobody shows up at and everyone has to start throwing up Facebook updates to try and get some scragglers there. Embarrassing to say the least.
Get it together Truro, right now you are the geeks in the High School of The Cape, don't make us stuff you in a locker.
Facebook: The Real Cape
Twitter: Hippie - Insane Tony
More Articles From The Real Cape: