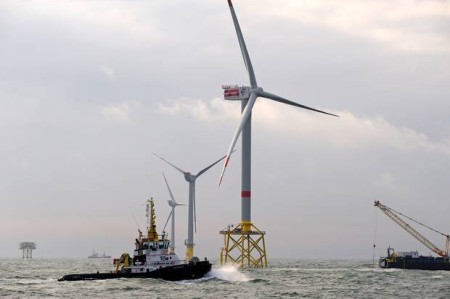 GR – An offshore wind farm that could be the nation's first has gotten its final lease and permits from state coastal regulators.

The Coastal Resources Management Council last week unanimously approved the paperwork for Deepwater Wind's project off Block Island.

The five-turbine project is three miles off Block Island and is competing with the larger Cape Wind off Cape Cod to become the nation's first offshore wind farm.

Deepwater Wind CEO Jeff Grybowski (grih-BOW'-skee) tells Rhode Island Public Radio that the company now has all the leases and permits it needs for the project, and they can start construction next year.

He says more than 20 local, state and federal government agencies had to approve the project.
Agree or disagree with Cape Wind, the bottom line is that the writing is on the wall and it's going to happen. Now all sides should just band together and pass everything to get it started. I don't even care about the electricity at this point, we just can't lose a race to Rhode Island. That's like getting beat up by your little brother.
These people elect felons to public office. We are talking about a state that gave $75 million to Curt Schilling. Let me repeat that a different way, they gave a baseball player that doesn't believe in evolution seven-tee-frickin'-five-MILLION dollars to make a video game!
Now they will forever be known as the birthplace of wind farms in The United States. Even though Cape Cod has been working on it for 67 years, they are going to jump in and beat us to it at the last second. Remember that chick that won the Boston Marathon but really only ran like the last few miles? That's Rhode Island, they are the Rosie Ruiz of wind farms.
Facebook: The Real Cape
Twitter: Hippie - Insane Tony
More Articles From The Real Cape: