When most of us hear a steel drum it takes us to that warm place in our dome piece. For Cape resident Michael Gabriel it is his weapon of choice. As a member of
Shango Axe
,
Dune Billy All-stars
as well as a solo career, Michael keeps that steel drum pounding all year round.
While playing with Shango Axe, Michael has opened for some of the legends of reggae such as Jimmy Cliff, Burning Spear, Stephen Marley, Toots and the Maytals and Eek-A-Mouse. He has played all over the world from where he grew up in Trinidad and Tobago to Carnegie Hall. He also started Jamm Down Entertainment Productions.
His smooth playing and voice will let you drift right near the beach boiiii. Every year Michael holds a benefit concert called Jammn for Julian (his son). Many cape musicians and local businesses donate to the fundraiser. Please keep your eyes open for the dates of Jammn for Julian 2014.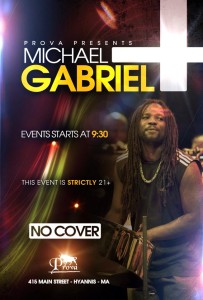 Facebook: The Real Cape
Twitter: Hippie - Insane Tony