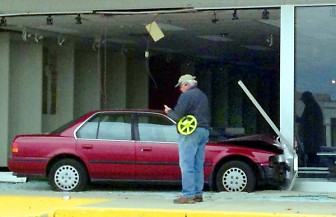 CCT – HYANNIS – The elderly driver of a sedan was injured Saturday after crashing through the empty location next to the T-Mobile store in Hyannis. The car crashed through the large plate glass window of the unoccupied store in the Cape Town Plaza on Iyannough Road narrowly missing the occupied T-Mobile store next door.
You have to think that this old hag was aiming for the T-Mobile store right? She was frustrated. When's the last time you talked to someone who was on a T-Mobile phone? It's like talking to Charlie Browns teacher through a McDonald's drive thru speaker. The only thing worse than T-Mobile is Boost Mobile. And that must get really frustrating because I'm pretty sure 98% of Boost customers are drug dealers right?
I'm sure there's nothing worse than dropping a call in the middle of a crack deal. People would be losing their minds. Crack heads hanging off telephone poles waving coat hangers and shit trying to get service. Skinny bitches incubating crack eggs in birds nests at the top of Oak trees with their heads bobbing on their flip phones trying to score some more rock. Anything for service.
Here's where I straight up school everyone with the best idea to curb drug use in the history of ideas. No hyperbole, just the best idea about anything ever since anything was invented… ever. Here it is. Forget about all this war on drugs crap and let's make it simple, We can immediately cut out half the drug use on Cape Cod just by knocking over the Boost Mobile Cell Tower. Can you hear me now crack dealer?
No, no I can't. No crack for you.
P.S. Any law enforcement agencies that would like to hire me can email me. I know this kind of genius thinking is in high demand.
Facebook: The Real Cape
Twitter: Hippie - Insane Tony
More Articles From The Real Cape: