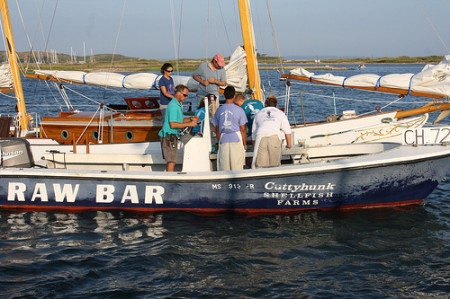 We have a history of calling out websites that create "best of" lists for Cape Cod. Some are cliche, some are too subjective and many are so downright ridiculous that it's obvious that the writer has never even been here. It all started with our now famous correction of Buzzfeeds list of "Signs You Spent Summer's On Cape Cod", which we fixed to reflect people who actually spend more than ten minutes here. Since then we've tackled quite a few lists and we are amazed at the ineptitude of each one. Until now.
New England Boating has put together a list of Great Cape Cod Day Trips By Boat, and it is actually a fantastic list. So much so that I almost didn't want to post it so these places end up more crowded. We won't go through the entire list so we highly recommend you read the original article by CLICKING HERE.
We will however prove it's worth just by revealing numbers one and two on the list.
1. Cuttyhunk
Cuttyhunk is the western most of the Elizabeth islands so it takes a while to get there, but it's worth the trip for sure. You can tie up to a multitude of public moorings or pilings for short money. On the island there are trails that bring you up high onto the west facing bluffs that are still dotted with concrete bunker style gun turrets left over from wars that bring you back to a different era. It's really a great place to explore.
There is a relaxed and festive atmosphere and everyone is very friendly. One of the coolest part is the fresh oyster and raw bar boat that comes around to each moored boat and shucks your shellfish right there while they are rafted up to you. There is absolutely no way anyone could argue Cuttyhunk topping this list.
2. Washburn Island
I could go on forever about Washburn Island. (Please not that there is no "s" in Washburn, this is one of the most common annunciation mistakes on Cape Cod.) Washburn has ten well groomed campsites atop a small bluff, each has it's own staircase and section of beach. There are also clean solar powered toilets and new for this year are fire pits at each site.
The atmosphere out there simply can not be beat. Everyone ends up partying with everyone else. I spend 10 days every summer on this island so I may be a little biased. In fact, I shit you not, I am publishing this article via my phone from Washburn right now. I will prove this in a moment by putting a photo on Facebook.
One of the best parts of Washburn is that while it is a secluded island that can only be reached by boat. If you run out of beer you can get to the mainland, hit a liquor store and be back within 20 minutes. There aren't many island campsites with that type of convenience.
So to wrap this up, we say kudos to you New England Boating. You have succeeded in putting together a list of things to do on Cape Cod that is just as true for lifers as it is washashores.
CLICK HERE for the entire article.
Facebook: The Real Cape
Twitter: Hippie - Insane Tony