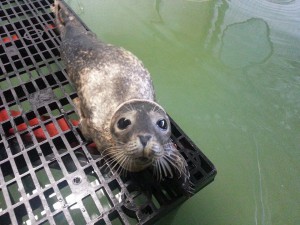 Credit Brian Morris/WCAI
WCAI – As he scratched at his enclosure in the back of a station wagon, it was clear that Scout was anxious to be let out. The seal pup is named for the boat owned by Cape Cod Canal builder August Belmont. He was found on Sandy Neck beach in October, said Kathy Zygzebski, the National Marine Life Center's Executive Director.

"He originally came in at the beginning of October with flipper lacerations, severe respiratory issues, malnourished and dehydrated," she said. "If he wasn't eating fish properly, if he wasn't being very successful at catching fish. It looks like perhaps he had a run-in with a shark or with something in the environment that caused his flipper lacerations. So just getting a little bit sick, and then didn't have enough blubber reserves and enough size on him to really improve."

Under the care of the National Marine Life Center, Scout's health has steadily rebounded over the last two months. At 10 AM on a recent morning, Marine Life Center personnel each grabbed a corner of the small enclosure and walked Scout down the path towards the beach.
Such a great story. Scout has been nursed back to health after a run in with a shark and he was released back into… well… into this: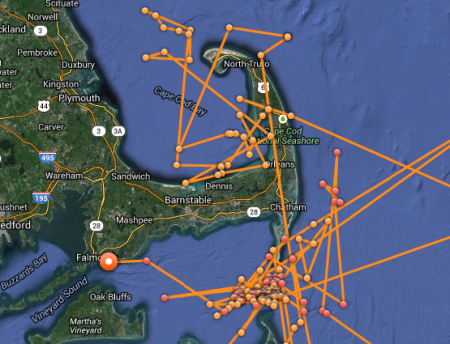 For those of you that don't know, those are some recent pings from the tagged Great White Sharks that have been swimming around the Cape as late as yesterday. I repeat, those are just the tagged sharks…
RIP Scout, you were a good seal.
Facebook: The Real Cape
Twitter: Hippie - Insane Tony