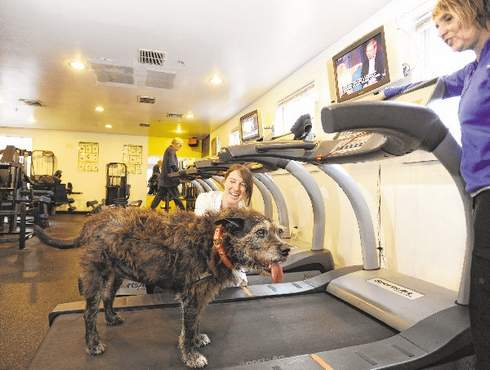 PROVINCETOWN – The third annual Provincetown Fitness and Food Challenge this year won't just incorporate gym classes, personal trainers and healthy menus at local restaurants.

This year, the exercise extravaganza that tempts the whole town with free gym days, nutrition classes and local business discounts will include dogs.

Man's BFFs will get one-on-one consultations with a veterinarian at the beginning of the challenge, said Sadie Hutchings, a veterinarian at the Herring Cove Animal Hospital and Fido Fitness organizer…

Canines can look forward to weekly weigh-ins and a discount on weight-loss dog food, Hutchings added…

"A lot of people don't recognize that their pets are overweight," Hutchings said.

Chubby has become the new normal, she said. But a truly healthy animal is lean…

Perhaps only in Provincetown would a pet fitness program run alongside a human one, said Denise Gaylord, a personal trainer, life coach and founder of the Provincetown Fitness and Food Challenge.

But her fitness challenge idea has sprouted all kinds of creative offshoots.

For example, one local restaurant, Fanizzi's, now offers a winter fitness menu. And Toys of Eros, an adult shop, is offering discounts to fitness challenge participants.
Some people might think personal trainers, nutrition classes and one on one consultations are a bit over the top for dogs, but I am 100% on board with this. These are aren't just any dogs, these are Provincetown dogs. These dogs have a reputation to uphold, a P-Town dog is refined, modern and fit while being social, sophisticated and fashionable. A P-Town dog should be fabulous.
We can't let these dogs fall into this "chubby is the new normal" mindset. It's time we shame these canines into weekly public weigh ins and low fat dog foods. Being a Provincetown dog is not just calling yourself one Fido, it's a lifestyle god damn it!
P.S. On a separate note, how about that last sentence?
Toys of Eros, an adult shop, is offering discounts to fitness challenge participants.
Only in P-Town would entering your dog in a fitness challenge get you a discount on whips and vibrators.
P.P.S. If this were one of those sophomoric websites with no class we would probably make a joke about a Provincetown life coach named Denise Gaylord, but since we are much too classy for that we won't even mention it.
Facebook: The Real Cape
Twitter: Hippie - Insane Tony