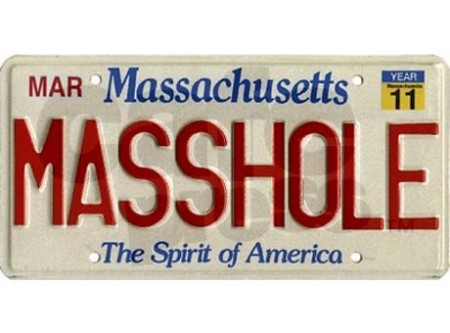 Boston – Masshole has officially been added to the Oxford English Dictionary, though it's been in the lexicon of the Bay State's neighbors for years.

From Masshole's now-official dictionary entry:

Masshole, n.

A term of contempt for: a native or inhabitant of the state of Massachusetts.

Language: U.S. coarse slang.

Etymology: Blend of the name of the U.S. state of Massachusetts and asshole
What a country! Isn't it hilarious that the official definition of Masshole calls it a "term of contempt"? It goes to show just how Massholey Massholes are. People from other states think the term is an insult but we wear it like a badge of honor.
We are a special breed us Massholes. We are, in fact, such assholes that we actually take pride in the fact that people think we are assholes. It's probably why so many great comedians come from Massachusetts. Bill Burr, Louis C.K., Conan O'Brien, Joe Rogan etc. etc.
The Masshole phenomenon is what makes this site so popular as well. Making fun of each other and not taking shit seriously is ingrained in our psyche at a very young age in Massachusetts. We always say that you know you have true friends when they rag on you all the time. It's when people start being nice to you that you need to start worrying.
Massholes for life.
thanks to Austin Bates for the tip
Facebook: The Real Cape
Twitter: Hippie - Insane Tony