The Cape Cod Times has a widget on their website that allows you to look up the violent and property crime rates and rankings of Cape Cod towns from 2000 up until last year. We took a screenshot of last years list complete with rankings by town and the results were a bit surprising: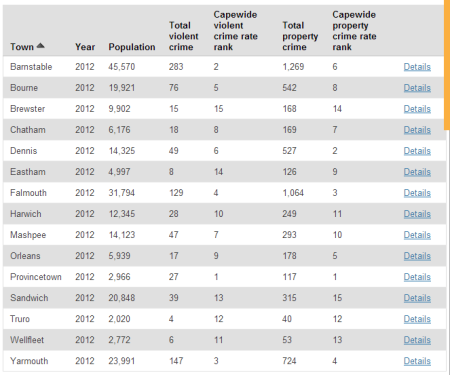 Provincetown coming in hot! I have to say I did not see that coming. The high crime rates for the bigger Cape Towns like Barnstable, Falmouth and Yarmouth seem fairly obvious, but what is going down in P-Town with the double 1st place rankings? Who would have thought that you'd have a higher probability of being the victim of a crime in the fist than you do in the armpit?
So much for the quaint little artist village huh? I'm no criminal justice expert but maybe they should start by no longer allowing homeless people to drink booze on the steps of Town Hall. Or it could just be that they have stricter laws out there and that jacks up the numbers. Maybe the P-Town jail is full of people who wore white shoes after labor day?
Whatever it is, be careful out there Provincetown people, one minute you might be minding your own business helping a friend move and the next thing you know a couple of street toughs are stealing your armoire.
Facebook: The Real Cape
Twitter: Hippie - Insane Tony