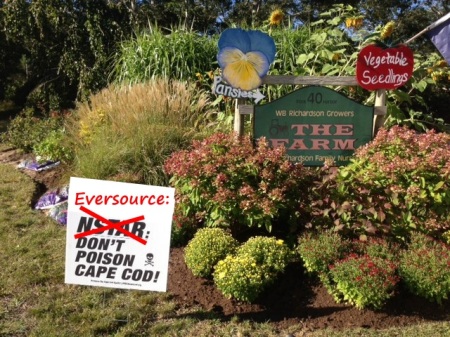 CapeCod.com – Eversource Energy intends to spray vegetation underneath transmission lines again across the Cape this year.

All Cape towns, except Brewster and Provincetown, were included in the companies yearly operational plan submitted to the state at the end of January.

Many groups across the Cape have spoken out against Eversource Energy's practice of spraying vegetation and every Cape town has passed a resolution to stop the practices.

Residents have until the March 27 to submit public comments to the Massachusetts Department of Agricultural Resources regarding Eversource Energy's spraying plan.
Damn. I really had high hopes for this "new" Eversource company. I thought that maybe since it is "new", this electricity conglomerate might actually care more about us, maybe spend a little more money to clear their power lines by using more environmentally friendly equipment and manpower.
Turns out Eversource only cares about their bottom line just like our old electric company, so they're going to keep using the more cost effective method of poisoning Cape Cod instead. Between this and the rate hikes they really seem to have a lot in common with NSTAR, it's almost as if they are the same exact company just with a different name or something. Weird.
Facebook: The Real Cape
Twitter: Hippie - Insane Tony