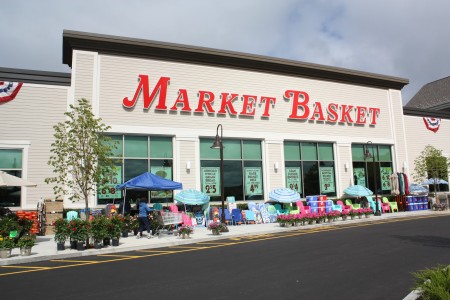 Capecodonline.com – Loading her car with groceries Monday afternoon outside Market Basket, East Falmouth resident Silvia Carnevali had an unexpected trip to take.

"I am going right to Stop & Shop," Carnevali said as she left the store with her 9-year-old son and his friend.

Carnevali hoped to buy her produce at the Market Basket, which she shops at about once a week. But with large parts of the fruit and vegetable sections empty or diminished, Carnevali said she was forced to go elsewhere for her produce.

The East Falmouth woman said she hadn't heard about the corporate and family drama at Market Basket when she showed up to shop Monday. She asked a cashier about the lack of products and said she was told staff did not know when the supplies would be replenished.

"The store is kind of a mess," she said.

The shortages have been caused by an ongoing feud within the family that owns the grocery chain, and employees' efforts to try to force the return of a popular CEO who was ousted last month.

Thousands of employees and supporters rallied Monday at the company's headquarters Tewksbury, calling for Arthur T. Demoulas to be reinstated as CEO. It was the second such rally in less than a week.
Let me get this straight. Market Basket, a chain of 71 stores, fired their CEO and now the store on Cape Cod is out of zucchini and broccoli? How does that make any sense whatsoever? Was part of Arthur T. Demoulas' responsibilities as CEO to personally deliver produce to the Sagamore store?
No wonder there are rallies being held to put the guy back in charge. Whoever they replaced him with must be a grade A asshole. I'm not a supermarket expert by any stretch, but I'm pretty sure if your CEO sucks so bad that people can't buy fruit at your stores anymore, it might be time to re think your hiring process.
P.S. I have to confess I've never been to a Market Basket. I always got the feeling it was like an Ocean State Job Lot for groceries, like they sell mac and cheese that survived a warehouse fire and shit. Am I wrong on that? Is the place a legit grocery store for normal people?
Facebook: The Real Cape
Twitter: Hippie - Insane Tony