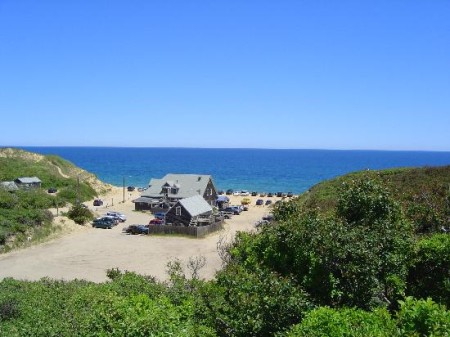 EasthamVacationGuide.com – Ask any long-time Outer Cape vacationer and they'll all tell you the same thing: The Beachcomber on Cahoon Hollow Beach in Wellfleet is an institution. Open daily from Memorial Day to Labor Day since 1978, it's where we love to go to have a few cold, tall ones, listen to live bands and get our beach bum on. Its the only oceanfront restaurant on Cape Cod so, really, do you need any other reason to make it a destination?
I'm a bit torn on this one. There are a few different angles going on here. Firstly, The Beachcomber is fucking awesome. It absolutely is an institution and deserves all the praise it gets, this is not even a question. I sort of feel bad because The Beachcomber is also not responsible for this article, Easthamvacationguide.com is.
My second problem is that I don't want to be hypocritical here either. I mean using ridiculous semantics and hyperbole is pretty much the backbone of this website. The thing is we use it for comedic purposes, there's nothing funny about this is there? Or is it meant to be sarcastic and humorous and I'm missing the joke?
Thirdly, I understand what they are getting at. They are excluding harbors, sounds and bays from their definition of "ocean". This is just plain wrong though, saying Vineyard Sound or Cape Cod Bay are not part of the ocean is like saying your kitchen is not part of your house. Maybe if they used "open ocean" it would make sense, but even that is a stretch.
Either way The Beachcomber is a fantastic place and they did not write this article, but it is NOT the only ocean front restaurant on Cape Cod. Calling it that may pass the semantics test but it just doesn't pass the sniff test. Not to mention The Real Cape's "don't be so fucking pretentious test".
P.S. The worst part is that somewhere in some state that constantly smells like the Barnstable County Fair some douchebag is telling his buddy that Cape Cod sucks because it only has one ocean front restaurant.
Facebook: The Real Cape
Twitter: Hippie - Insane Tony