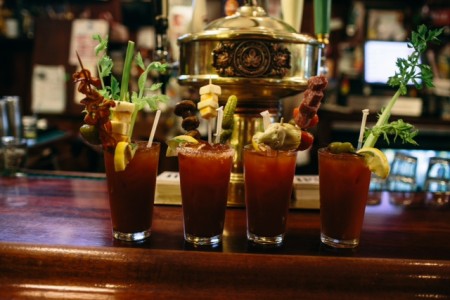 I have a major problem today. Usually once I've been somewhere enough times I get locked in and know what I want every time I go back. That hasn't happened yet with Liam Maguire's Sunday Funday Bloody Mary Brunch. Now that I've had a bunch of different Bloody Mary and food combos, I want all of it. Everything. But I"m still not done experimenting either.
Today I really want to find out how good a Bloody Mary with cucumber vodka is going to be. I want mozzarella balls, and bacon, and salami, and a tornado potato on my Bloody Mary, but I also want a breakfast burrito and I want a traditional Irish breakfast. These decisions have been plaguing me all morning. I have serious first world problems.
Maybe I'll just jump from table to table and eat bites of everyone's food. So do me a favor, make sure everyone at your table today orders something different so I can have a little bit of everything.
Sunday Funday starts at noon with The Silent Trees playing some mellow acoustic music and the now famous Build Your Own Bloody Mary's plus a great food menu. You know that "hair of the dog" saying? Today I'm going to make a fur coat out of dog hair.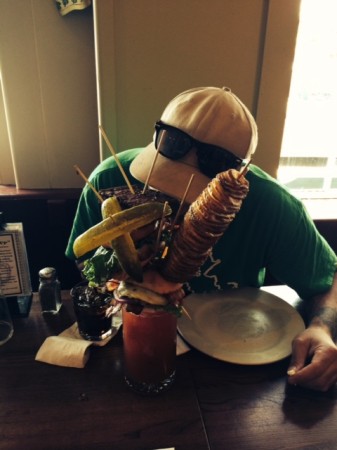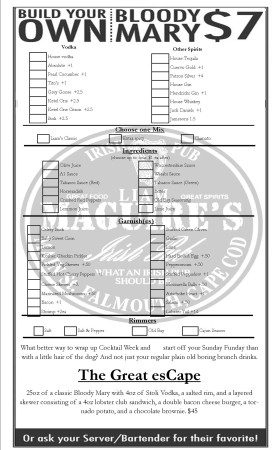 Sunday Brunch
Breakfast Burrito
Scrambled eggs, bacon, cheese, and two hash browns with an avocado chipotle aioli.
Irish Breakfast
Two eggs cooked to order, two rashers, two bangers, black and white pudding, home fries, and a fried tomato. Served with brown bread.
Crab cakes Eggs Benedict
Two English muffins topped with jumbo crab cakes, Irish bacon, poached eggs and our own homemade hollandaisesauce. Served with home fries.
French Toast
Three slices of thick cut Sourdough bread dipped in our own cinnamon French toast batter. Served with a side fresh fruit.
Chicken & Waffles
Habanero Guinness waffles with two fried chicken breasts, smothered in Southern style white gravy, made with our own bangers. Served with REAL New England Maple syrup and pickled vegetables.
So the bottom line here is that this is going to be an absolutely perfect way to knock the cobwebs off from Saturday Night and start Sunday Funday with a bang. The Real Cape will be there, will you?
Facebook: The Real Cape
Twitter: Hippie - Insane Tony