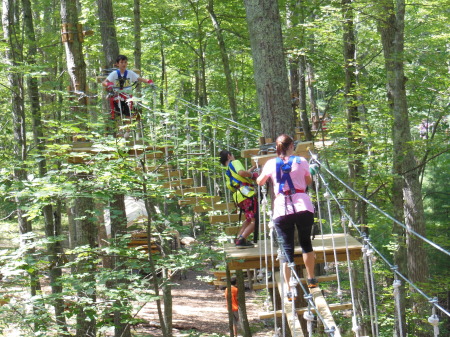 CapeCodTimes.com – Two neighbors of Heritage Museums & Gardens have filed for a criminal complaint in Barnstable District Court, alleging elements of the facility's new zip line park strayed from the original plans.

Don Stainbrook and Carlo DiPersio filed the application Friday under a provision of the law establishing the Old King's Highway Historic District that allows "any person who sees a violation" to seek a criminal complaint. Stainbrook and DiPersio first brought the complaint to Building Inspector Paul Spiro who declined to intervene.

The park opened Saturday and Sunday with 140 visitors, Heritage CEO Ellen Spear said.

At issue in the complaint are two yurts, structures used at The Adventure Park at Heritage, that Stainbrook and DiPersio allege were moved after approval was granted by the Old King's Highway Historic District Committee.
Holy shit these guys are possessed by anti fun demons. This is beyond Fun Policing at this point, this is Fun Gestapo level shit. If you aren't familiar with this saga, we've written about it no less than SIX times already. CLICK HERE to catch up, but only if you are willing to get nauseous.
Do the people that have been fighting this adventure park tooth and nail just have absolutely nothing else going on in their lives? The 300 Spartans didn't fight this hard against the Persians. It's a park in the woods for kids for fucks sake, how rotten of a person do you have to be to hate fun this much? Or do they hate Yurts? What the hell is a Yurt?
Don and Carlo, or should I say "Hateskids McGee" and "Nofun Johnson", have filed grievances with every single department of government possible. I'm not joking, every single one, and do you know how many boards, or committees, or departments along the way have sided with them? ZERO. Not one.
Forget about the provision in the law "that allows "any person who sees a violation" to seek a criminal complaint". We need a provision in the law that states "any person who wastes everyone's time and money just because they have no hobbies and hate children will be voted off the peninsula and asked to leave immediately".
Facebook: The Real Cape
Twitter: Hippie - Insane Tony