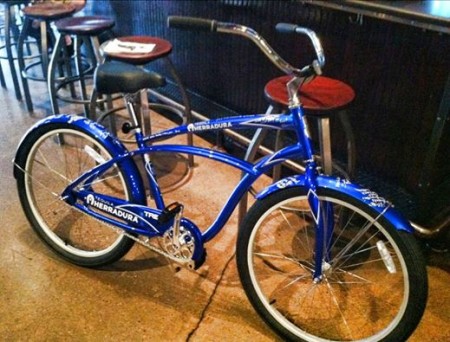 Capecodonline.com – The power of Facebook helped one woman recover her stolen bicycle from a man who allegedly took it from her parents' home on Breakwater Shores Drive.

"I'm going to cry!!!!," Sarah Lapsley, of Hyannis, posted on the social media site Tuesday. "Someone stole my bike right off my parents' front porch!! Please keep your eyes out for this bike! Especially in the Hyannis area!!! Blue Trek bike with handwritten messages from all my Colorado friends!!!"

Lo and behold, people saw the bicycle Wednesday around Hyannis and posted their sightings on Facebook, Barnstable police Sgt. Michael Riley said.

The bike had sentimental value because her friends signed it when she moved here from Colorado and gave it to her as a present, Lapsley said.

At around 5:30 a.m. Thursday a man who asked not to be identified spotted a man wearing a Dunkin' Donuts hat riding the distinctive-looking bicycle on Bearse's Way.

He confronted the rider.

"I said, 'I know this bike is stolen, just leave it and walk away," the good Samaritan said in a phone interview.

But the operator of the bicycle swore at him and rode away, the man said.

Police then began to visit Dunkin' Donut shops in the Hyannis area. They arrested the alleged thief at around 7 a.m. at the shop at the corner of Yarmouth Road and Route 28.

Steven Thomas, 22, of West Yarmouth, faces charges of receiving stolen property over $250, being a disorderly person and resisting arrest, Riley said.

The bike now has a small dent and a cellphone holder is missing, but the messages from Lapsley's friends are still there "and that's all I really care about," she said.

"I was so worried people would spray-paint it right away."
Facebook for the win! Great story of good triumphing over evil. Or maybe more a story of intelligence winning over idiocy. You've got to be a special kind of moron to steal that bike. Dude, you couldn't find a black mountain bike? You decided to steal a brightly painted, funked out, beach cruiser that has a personal message to the owner on it?
People this dumb should be spayed and neutered so they can't reproduce. How do you get confronted by someone who says they know the bike is stolen, while you are wearing a Dunkin' Donuts uniform, and then just keep on riding to the Dunkin' Donuts you work at without thinking you may be at risk of being caught?
Also, what is this guys plan if someone asks him why his bike says "Good luck in Massachusetts Sarah, love, everyone in Colorado!"? Does he just say that he is Sarah? That's the only play right?
"Hi, I'm Sarah, welcome to Dunkin' Donuts can I take your ord…. "
Facebook: The Real Cape
Twitter: Hippie - Insane Tony
More Articles From The Real Cape: