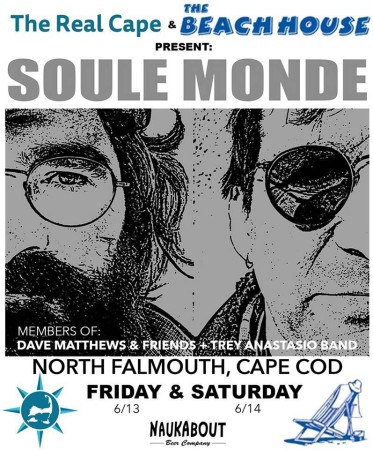 Oh what's that? You need more sick live music to listen to on Cape Cod? Here, let The Real Cape, Naukabout and The Beach House help you with that. I'm sorry did you say that one night of a band the caliber of Soule Monde isn't enough? Well then it's a good thing Arthur Bonzarelli booked them for a two night run.
The Cape Cod renaissance is happening people. It's time to take back The Cape and this weekend is as good a time to start as any. The Fun Police should consider themselves warned.
Soule Monde is instrumental, organ-driven funk in its purest form. Erupting from the syncopated minds of power-drummer Russ Lawton and organ-wizard Ray Paczkowski, the duo take soul-jazz back to the deep end. Forged off a sound that originated with Booker T. and Jimmy Smith, yet highly influenced by the redeveloped grooves crafted by Medeski, Martin & Wood and The Beastie Boys, Soule Monde is the ideal union of swagger and raw talent.

Over a decade of touring together as members of The Trey Anastasio Band has fervently cemented these two into an indestructible pocket, and bold improvisational leaps by either player are met by near-telepathic response from the other. These strut-worthy rhythms are further accentuated by a passionate longing for melodic story arcs. So while their songs will make your ass shake like a Jello plate on the San Andreas Fault, they will also take you on a narrative journey of harmonic exploration.
Facebook: The Real Cape
Twitter: Hippie - Insane Tony
More Articles From The Real Cape: