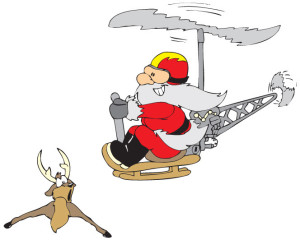 Truro – All children up to and including sixth grade are invited to welcome Santa as he arrives by helicopter at Highland Lighthouse at 9:45 a.m. Saturday, Dec. 14. Pre-registration is required by Dec. 3; sign up online at www.activityreg.com. There is a fee of $5. The event is organized by the Truro Recreation Dept. For more information visit www.truro-ma.gov/recreation or call (508) 487-1632, ext. 22 or 23.
Who says nothing cool happens on The Cape in the winter? You don't see Santa getting choppered around Boston do you? Where do I sign up?
Hold up, what is the deal with kids only in sixth grade and below? Hey Truro Recreation department, way to crush my dreams.
Seriously though if I was in 7th grade in Truro I would be PISSED. I can't imagine the list of things to do for a kid in Truro on December 14th is very long. Little Timmy will be sitting around reading Tolstoy by candlelight while, only because he was born a year later, his little brother is re enacting A-Team scenes with Santa Claus.
I feel you Timmy, kick your brother's ass when he gets home and blame it on your local government.
Facebook: The Real Cape
Twitter: Hippie - Insane Tony
More Articles From The Real Cape: