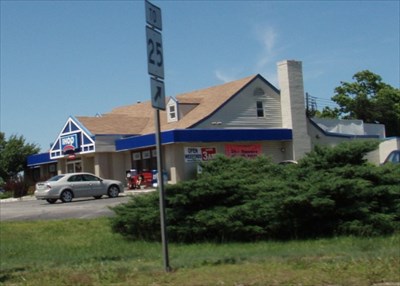 Wicked Local Bourne has said that a "well known coffee franchise" has been looking into the old IHOP building at the Bourne Rotary, and now there is this article saying that there is work being done to the building and they think it is going to be a Dunkin' Donuts.
If this is true I will puke on my own tits.
There has been perpetual traffic at both bridges for years now, it's bad in the winter, it's unbearable in the summer. Could you imagine throwing a few thousand Massholes that haven't had their coffee yet into the mix? This has to be stopped before someone is inevitably murdered with an oversized ice coffee straw.
I know we have a history of being pro business on this site, but we are also pro common sense. Adding a high volume, high turnover business to that rotary would be like building the Hoover Dam on the river of traffic flowing to and from Cape Cod. This could be the single biggest perpetration that Dunkin' Donuts has pulled on the people of Massachusetts since they started putting rosemary in their hash browns.
P.S. Hey Dunkins'. Stop making me ask for wax paper, just give it to me if I order something sticky.
Facebook: The Real Cape
Twitter: Hippie - Insane Tony
More Articles From The Real Cape: