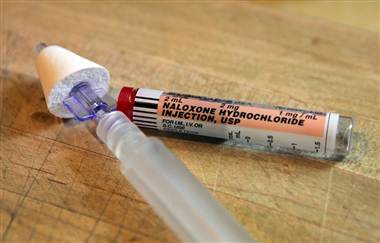 CapeCodOnline.com – A drug that has saved thousands of addicts from dying of a heroin overdose has nearly doubled in cost as the use and demand for it have increased.

Naloxone, which also goes by the brand name Narcan, counteracts the dangerous depression of the central nervous and respiratory system from opiates.

The state used to pay $42 for a kit, which includes two doses of naloxone and two atomizers, but is now paying $75, said Anne Roach, the spokeswoman for the state Department of Public Health.

The price increase will affect town budgets, Mashpee Police Chief Rodney Collins said.

All police departments on Cape Cod police received several doses in the fall as part of a grant and funding from the Barnstable County Sheriff and the Cape and Islands District Attorney's office.

In the future, naloxone doses will have to be paid for by the towns.

Amphastar Pharmaceuticals Inc., the only manufacturer of the nasal formulation, has jacked up the price. No one from Amphastar, based in Rancho Cucamonga, California, responded to a request for comment on why the price has gone up.
Classic drug dealer move. The first few are free, then we will only charge you $42 a piece, but once everyone is in love with it and dare I say, entitled to it, the cost magically almost doubles to $75. The lowly street dealers that prey on the public have been pulling this bait and switch pricing shit for years. The only real difference here is that Amphastar Pharmaceuticals has the full support of the government, to the point where they are even using it as a distribution arm.
The U.S. War on Drugs ladies and gentlemen. We live in a country that consumes 80% of the world's legal pain medication while only having 5% of its population. Meanwhile 94% of heroin users say they started using it because prescription opiates are too expensive. Basically what this means is, people are turning to street heroin because they can no longer afford to get their opiates from the government backed dealers.
Everyone is running around in circles trying to figure out how to fight heroin addiction. Well, keep blaming street level heroin dealers all you want, or even Afghanistan, but there's only one way to end this epidemic and it's not in the streets of Hyannis, it's in Washington D.C. where the real drug dealers are.
Facebook: The Real Cape
Twitter: Hippie - Insane Tony
More Articles From The Real Cape: