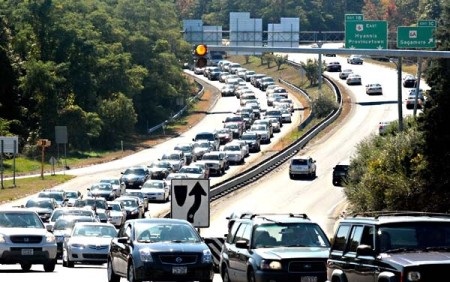 CCT – A tractor trailer crashed into overhead scaffolding on the Sagamore Bridge Sunday morning closing the bridge for several hours. According to a worker at the scene, a crew was in the process of removing the scaffolding when the incident occurred before noon.

With the Sagamore Bridge closed in both directions, traffic was backed up for miles. On and off Cape traffic was diverted down Sandwich Road to the Bourne Bridge. The bridge as reopened after 3 p.m.

There were no reported injuries as a result of the incident.
How insane would you go if you had to sit in traffic for 3 hours at the Sagamore Bridge on a random Sunday? I'm pretty sure I'd pull some Independence Day shit and get out of the car and walk.
Here's a little tip for the bridge workers. Next time you are moving the scaffolding, measure the height of a tractor trailer first and make sure the scaffolding is never lower than said height.
P.S. I wonder if our favorite Sagamore bridge painter Elton got any selfie videos that day.
Facebook: The Real Cape
Twitter: Hippie - Insane Tony
More Articles From The Real Cape: