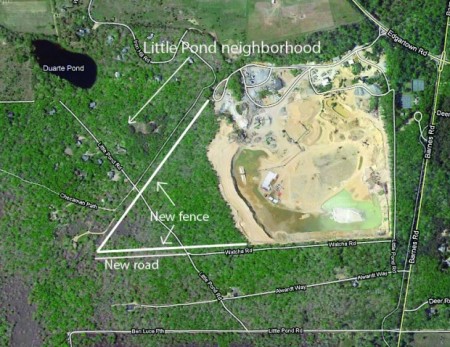 MVGazette.com – A cornerstone of the Vineyard economy for many decades, the Goodale Construction Company has long mined for sand and gravel without restrictions inside its 100.2 acres in Oak Bluffs.

But what was once an isolated, sparsely populated region with little more than a sand pit in the middle is today a patchwork of residential homes, farm and conservation land.

And amid growing complaints from neighbors, the town is now asking Goodale's to obtain a special permit for its operation.

In a letter to owner Jeremy T. Goodale two months ago, building inspector James E. Dunn ordered the company to apply for a permit from the zoning board of appeals in the next 60 days. He wrote that the part of the Goodale property dedicated to earth removal "has been substantially extended since the use became nonconforming."

The residents claim that the Goodales closed off a former neighborhood access road and replaced it with a new road that hugs the southern edge of the pit, putting up a black chain-link fence where there had once been a wooden fence. They say the new access road was poorly engineered and that the fence allows sand and snow to blow through to the road.

"When I first moved here, I used to walk in the neighborhood with my friends and our babies," said Melissa Harding, a Little Pond resident. "Then suddenly I couldn't get to the bike path [on Barnes Road] because we couldn't walk through the sand with our children."

The primary concern among neighbors is the movement of the pit operations westward, toward their secluded, wooded neighborhood.

Until recently, a deep buffer of trees separated the sand and gravel operation from Little Pond homes. But the company has since removed many trees and is showing signs of further expansion, residents said this week.

"I am continuing to see expansion all the time, they are cutting trees, they are continuing to clear," said Billie Burke, a Little Pond Road resident.

Mr. O'Flaherty, the attorney representing the Goodales, noted that the neighborhood was developed many years after the sand and gravel operation had begun.

"The folks came after, so there is this notion in the law of coming to a nuisance," he said.
These stories never cease to amaze me. This company is chugging along just fine for 60 some odd years, stimulating the local economy and using the 100 acres of land that they OWN to do it. Then someone builds a few houses, a couple of babies get sand in their toes and voila! Now you need some permit that we just invented.
I think I'm going to build a house right next the MV building department and when I'm done I'll tell them they need to tear their building down because it blocks my view. Actually from now on I'm just going to file a complaint with the state house every time anything negatively affects my life in any way whatsoever.
Facebook: The Real Cape
Twitter: Hippie - Insane Tony
More Articles From The Real Cape: