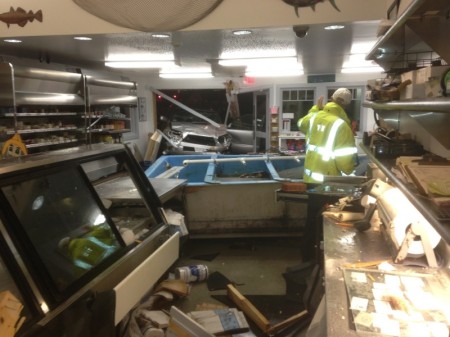 MVGazette.com – An Edgartown man was arrested on several charges after he allegedly drove through the wall of the Net Result in Vineyard Haven early Saturday, police said, leaving the popular fish market in a state of ruin and closed for business.

Abraham Torres Rendon, 25, was arrested and charged with drunken driving, negligent operation of a motor vehicle, marked lanes violation, speeding, reckless operation, leaving the scene of property damage, wanton destruction of property, resisting arrest and attempted bribery of a public official, Tisbury Lieut. Eerik Meisner said Monday morning.

Mr. Rendon and a female passenger were driving from Oak Bluffs to Vineyard Haven, Lieutenant Meisner said. As the road curves by Net Result, he said, the Toyota 4Runner left the roadway and drove through the front entrance of the store. Lieutenant Meisner said Mr. Rendon and the passenger left the scene, and police searching on foot located them in a room at a hotel across the street. Both were checked by medical personnel and were not seriously injured, Lieutenant Meisner said. The female passenger does not face any charges.

Mr. Rendon allegedly resisted arrest and offered money to be released from police custody. Police did not release his name or information about the charges until Monday morning.

The lobsters "were all over," he said. "There were lobsters in the showcase, lobsters in the corner." In a photo Mr. Larsen took as Tisbury emergency crews were moving the car out, a lone lobster is visible beneath the dislodged tank. The surviving lobsters — not all made it — were moved to a different storage unit in the back of the building.
Obviously this is an awful situation for the owners of The Net Result, but let's not forget the other victims here. The Lobsters. Talk about going through a rough stretch. It's bad enough to be trapped at sea and put in tiny tank with 83 of your buddies awaiting certain death at the hands of some asshole with a plastic bib on, but what are the odds of an ocean dwelling creature being the victim of a hit and run by a Toyota 4Runner?
Think about that for a minute, one day you are chilling on the ocean floor snacking on sea urchins and shit and the next thing you know you are gasping for air under a chrome bumper. That's definitely gotta be one of those "how the hell did I get here" moments right?
Since you can't sell the survivors it seems to me that the only thing to do is pamper them. They are miracle lobsters as far as I'm concerned. There's just no way there's ever been a lobster that's been through more than these poor bastards. I say we start a GoFundMe page, get them some PTSD counseling and give them a little nest egg to start the healing process and piece their lives back together. I mean at this point I wouldn't be surprised if they were just a shell of their former selves.
P.S. How about the guy trying to bribe the cops. Ummm… sorry man but an SUV completely INSIDE of a store is kinda hard to sweep under the rug.
Facebook: The Real Cape
Twitter: Hippie - Insane Tony
More Articles From The Real Cape: