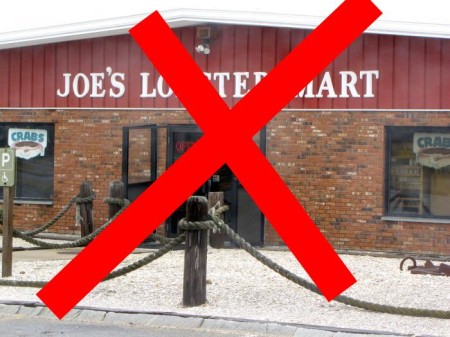 CapeCodOnline.com — George Brennan – Joseph Vaudo is finished as a Planning Board member, ousted by the write-in campaign of Robert King in what can only be described as an election shocker.

Vaudo, the incumbent chairman, pleaded guilty in March to receiving stolen property at his fish market.

He had been running unopposed for the three-year seat until last week, when King decided to launch a write-in campaign. King easily outdistanced Vaudo 1,212 to 604. Lori Caron also was elected to a three-year term on the board with 1,311 votes.

King said it was a combination of the Planning Board's ill-advised zoning proposals for the town's historic areas and Vaudo's legal issues that helped propel him into office. "Certainly there was some backlash against Joe," King said. "I heard some of that at the polls."

Vaudo could not be reached for comment.
Now that is what I am talking about Sandwich. We called for an all out boycott of Joe's Lobster Mart a while back after he pleaded guilty to buying stolen shellfish. Well it looks like the people of Sandwich have spoken. Joe was handily defeated by a last minute write in campaign even though he is both the incumbent and the chairman of The Planning Board. This is like the Patriots getting beaten by an expansion team in next year's Superbowl.
I think Mr. Vaudo's best bet at this point might be to assume a new identity and move his ass off of our peninsula, and he might want to get some paint thinner to scrub off that scarlet letter before he goes. You might be able to trick a few summer people Joe, but you should know better than to fuck with Real Cape Codders.
Facebook: The Real Cape
Twitter: Hippie - Insane Tony
More Articles From The Real Cape: