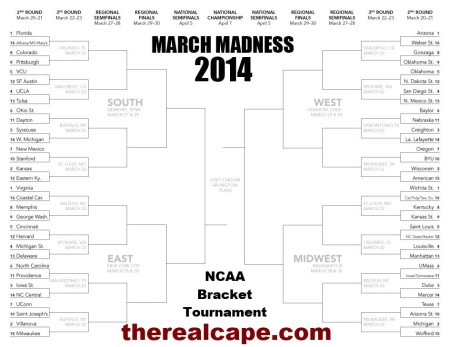 So March Madness is just two days away, we decided to run our own bracket tournament. This Cape Wide tournament will be tons of fun with money and bragging rights on the line! The entire contest will be automated right on the site so you can check your real time updates and we will be publishing daily leaderboards so you can see where you stand.
Here is how it works, on the top of the right sidebar there is a registration box, just register yourself, and you will be sent a password. Once you log you will be brought to a profile page where you can edit your info and change your password to something you can remember more easily.
From there you can go back to the main site by clicking "real cape" on the top left. Then using the same box on the right you can view and edit your brackets. Brackets can be edited  up until 12 on Tuesday.
Right below the registration box there is a an entry fee box. Click on that to pay the $10 entry fee and you will be live and ready to go. There will be cash prizes for 1st 2nd and 3rd place. The scores will automatically be updated. Prizes will be payed out via PayPal, cash or check two days after the tournament is over.
We get tens of thousands of visitors to this website so hopefully many of you will join the tournament and we will have tons of money to pay out. We will be posting daily leaderboards on the site so everyone knows where they stand and will announce the exact value of the prizes once entries close and we know how many people have signed up.
So sign up now and not only win a bunch of cash but also the bragging rights as the premier March Madness expert on Cape Cod!
Facebook: The Real Cape
Twitter: Hippie - Insane Tony