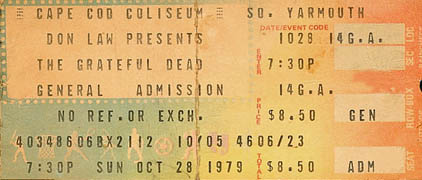 Editor's Note: The fuckin' '70's! The Grateful Dead on Cape Cod? No Fun Police? Someone hit the rewind button.
Today I'm taking a trip down memory lane for many of you. Back to when times where a lot simpler and rock and roll was a way of life. For may of us my we have only heard stories of a place on this man made island where rock and roll ruled the night. This place for the music lovers here on The Cape from 1972-1984 was The Cape Cod Coliseum.
This 7,200 seat love nest for music made it's home in the lovely town of South Yarmouth. With the first concert in 1973 with Three Dog Night and the last concert in 1984 with Iron Maiden. The coliseum hosted the who's who in the music scene in the 70's and 80's. This list includes such greats as The Allman Brothers, The Clash, Santana, Tom Petty, Pat Benatar, Lynard Skynard, The Greatful Dead, Aerosmith, Alice Cooper, Kiss, Peter Frampton, Molly Hatchet, Van Halen, Foghat, INXS, and of course Ozzy.
Not only did the Coliseum host the legends of music, this historic venue hosted Espn boxing events. Also WWF wrestling matches. Back when wrestling was  real and not this WWE fake ass, steroided freak show soap opera bullshit.
I never had the pleasure of making it to this holy ground for live music, but I have been told folk lure of the crazy nights here. From the stories passed down to me, the fun police would of spontaneously com-busted at this place. I can only hope to have a venue like this here on the mother land once again.
Please if you have any pictures or stories share them with us.
Remember get out and see and support live local music.
Follow Insane Tony on Twitter
Facebook: The Real Cape
Twitter: Hippie - Insane Tony