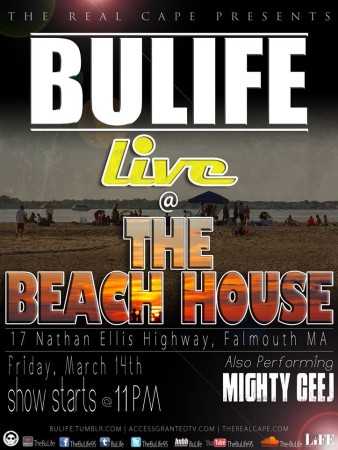 The day has arrived! We here at the Real Cape are excited to announce our first musical promotion. After months of negotiations and hundreds of pints of beer we will finally throw our first sanctioned shindig.
Our homeboys from the tip of the map, The Bulife will make their first appearance here on the upper cape. On their way to Fal-town the Cape hip hop train will also scoop up Mighty Ceej from Hy-town.
The destination for the train will be The Beach House in North Falmouth. Be sure to mark March 14th down on your calender as a do not miss party. It will also be the day Cape historians look back and say "March 14th in the year of our lord 2014… The Real Cape changed the game."
Editor's note: The Bulife guys have been Real Cape since day one. We've featured them on this site more than once because they are insanely talented. This show is our way of getting real deal homegrown artists out there to people who care about good music. We've been working on this for a while and it will be an absolute can't miss show. Like Tony said we are aiming to change the game on Cape Cod, make sure you are there for the first roll of the dice.
Facebook: The Real Cape
Twitter: Hippie - Insane Tony