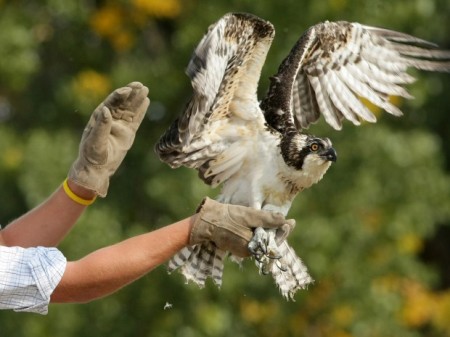 CapeCodOnline.com – Many birds fly south for the winter — but in a plane?

That's the first-class treatment received by a male osprey that had been rehabbing at the Cape Wildlife Center in Barnstable Village. The bird had fractured a wing when a summer storm blew down its nest.

Although the osprey is just about ready for release, it still needs a little time for some feathers to grow in, said Brittany Griffin Morse, wildlife rehabilitator at the center, which is operated by The Fund for Animals and the Humane Society of the United States.

By the time the raptor would be ready to return to the wild, it would likely be challengingly chilly on Cape Cod, so Morse started searching for ways to get the bird to the South Florida Wildlife Center in Fort Lauderdale.

A Cape Wildlife volunteer connected Morse with New Hampshire pilot Drew Gillett and his wife, Barbara, who were headed down to the Fort Lauderdale area for a little rest and relaxation. The Gilletts had room in their plane and agreed to make a pit stop in Hyannis on their way to the Sunshine State.

On Monday morning at Barnstable Municipal Airport, Morse handed Drew Gillett a crate containing the osprey and he stowed it aboard his plane.

"I'm hopeful that he will just relax and enjoy the flight," Gillett said.

If all goes well, Morse expects the bird to be released in Florida within a couple of months. And when the time is right, the osprey should return to our shores.

"He's a Cape Cod bird," Morse said. "He would head back up this way next year."
Hey I have an idea. Maybe the Gilletts have room for a few more? I'm sure there's a couple of homeless dudes in Hyannis with injured wings that would jump at the chance to get to Florida for the winter. If all goes well, and when the time is right, maybe they will return to our shores.
"He's a Cape Cod homeless guy, he would head back up this way next year."
P.S. Relax, I'm totally kidding, we all know that we don't go nearly as far out of our way for homeless people as we do for birds on Cape Cod these days.
Facebook: The Real Cape
Twitter: Hippie - Insane Tony