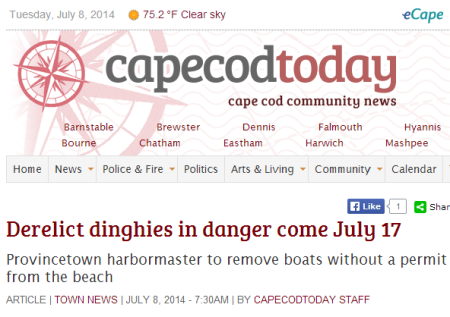 CapeCodToday.com – Derelict dinghies may be in danger come July 17 in Provincetown. In a public notice, the town announced that on or around Thursday, July 17, any beached boats, dinghies or vessels without proper permit will be removed from the beach.

As outlined in the ProvincetownHarbor Regulations, dinghies or vessels stored on the beach for seven consecutive days, or posing a hazard to other vessels, property or the beach itself will be removed by the harbormaster if they are not properly permitted.

Once removed, the vessel will be stored by the harbormaster for 15 days. If not claimed, the harbormaster has the right to dispose of it.
If The Real Cape was one of those silly sites that try and get a cheap laugh, I might say something about how hard it's going to be to get rid of ALL of the derelict dinghies in P-Town. I may even say that if you remove all of the derelict dinghies from Provincetown beaches, then 98% of the men in town won't have a reason to even go there anymore. Or I might point out that disposing of perfectly good derelict dinghies may cause rioting, but…
Since this is not one of those sophomoric sites, I will refrain from these types of jokes and just let the people of Provincetown know that they should either register their dinghies or take them home. I won't even say anything about washing their dinghies when they get them home to avoid any screaming seagulls.
P.S. We would certainly NEVER resort to Zoolander Derelicte jokes…
Facebook: The Real Cape
Twitter: Hippie - Insane Tony
More Articles From The Real Cape: