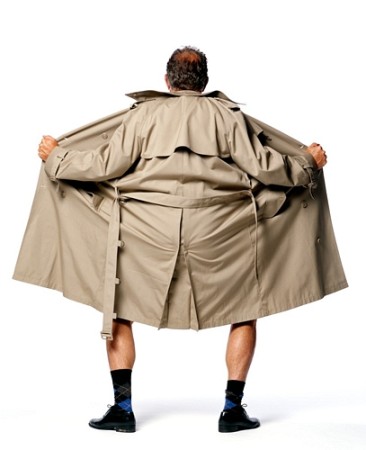 CapeCodOnline.com – Nearly 18 months after neighbors complained about his nudity and behavior around children, a North Falmouth man pleaded guilty this week to charges of indecent exposure and open and gross lewdness.

John W. Martin Jr., of North Falmouth, was sentenced to two years of probation Tuesday and ordered to stay away from the victims, including a Millstone Street resident who saw the 50-year-old man pull down his pants, police said. He will be required to report to probation every week and will undergo supervised evaluation and counseling as needed, according to court records.

In September 2012, police received several complaints about Martin from residents near the Shining Sea Bike Path.

One woman told police Martin chased her son and his friend down the trail after following them with a flashlight. Another woman said her three granddaughters and a neighbor rushed inside after Martin came onto the front lawn and began waving and smiling at them.

About a month earlier, Martin pulled down his pants just as a man was running past him on the trail, police said.

When an officer arrived at Martin's Althea Road house, he was seen running from a bedroom covered "head to toe in what appeared to be shaving cream," police said. Martin answered the door in a towel and denied the accusations.

He was later summonsed to Falmouth District Court, and this was the case disposed of this week.

Police were familiar with Martin from a November 2011 incident in which he was found walking naked in the area of Thomas B. Landers Road. Martin admitted there was sufficient evidence to convict him on an indecent exposure charge, and the case was continued without a finding until June 2012.

A disorderly conduct charge was dropped, according to court records.

In March 2012, an Althea Road neighbor told police that Martin pulled down his pants and exposed his backside in the middle of the street. The neighbor declined to pursue a complaint against Martin, police said.
What. The. Fuck.
I'm not even sure what to say about this one, this guys "gross lewdness" knows absolutely no barriers. Boy, girl, young, old, this dude will drop trow for anyone, anywhere, anytime. All you people in North Falmouth better be on alert, you just never know when you could inadvertently get an eyeball full of John Martin's junk.
So this guy has been waving his willy all over town since 2011 and when the police go to confront him he's running from room to room naked and covered in shaving cream? Probation seems a little lenient in this case no? I'm no criminal justice expert but I'm pretty sure John Martin might not be fit for society. When someone can't even walk down the Shining Sea Bike Path without doing the pants off, dance off every time someone jogs by, it might be a good idea to remove them from the general public.
You almost have to respect his chutzpah though, the guy knows he's a menace and doesn't even try to deny it. Dude didn't even fight the charges, he was just like "Indecent exposure? Gross lewdness? Oh yeah definitely. You got me there. Guilty as charged."
Facebook: The Real Cape
Twitter: Hippie - Insane Tony