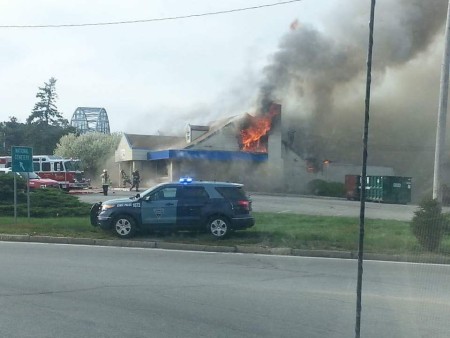 CapeCodTimes.com – A month after the former IHOP restaurant on the Bourne Rotary caught fire, the company planning to transform the property into a Dunkin' Donuts has applied for a building permit to repair the damaged roof, siding and windows in hopes of opening in September.

Cape Cod Enterprises Inc., a subsidiary of the Stoneham-based Couto Management Group, had initially planned on an August grand opening for its sixth Dunkin' Donuts in Bourne. But on May 15, a fire scorched about a quarter of the building, damaging the side of the building facing the rotary.

Days before the fire, representatives of the Couto Management Group came before Bourne selectmen in hopes of receiving a common victualler license, which was later granted. With no proposal for a drive-thru, addition or changes to the parking lot, the plans required no site plan review or special permit for approval.
Oh sweet, at least it won't have a drive-thru, that should really help slow everything down even more. Maybe while they're at it they can roast the beans individually and brew each cup of coffee to order. That should keep each customer there even longer and really add to the congestion.
Look, we are very pro business here at The Real Cape. We are big fans of free enterprise and allowing businesses to thrive, but at some point you have to use common sense when it comes to negatively effecting the greater good. At a time when Bourne rotary traffic backs up for miles and we are considering building a third bridge to alleviate it, do we really want to purposely grow a blood clot in one of the two major arteries that carry the oxygen into the heart of Cape Cod?
I realize that this company has every right to legally open this Dunkin' Donuts, but is it really going to hurt their bottom line if people are forced to go to one of the FIVE other locations that they already own in Bourne? Do they really need a sixth Dunkin' to make sure they have a monopoly on Munchkins in town?
I don't know about you but I definitely plan on boycotting this Dunk…   Oh who am I kidding, Dunkin' Donuts has us all by the balls. They know it, we know it, even David Ortiz and Gronk know it. We all should just start getting used to adding another half hour to our trips on and off the Cape because everyone is gonna be "Sippin' on Dunkin' Iced…"
Facebook: The Real Cape
Twitter: Hippie - Insane Tony