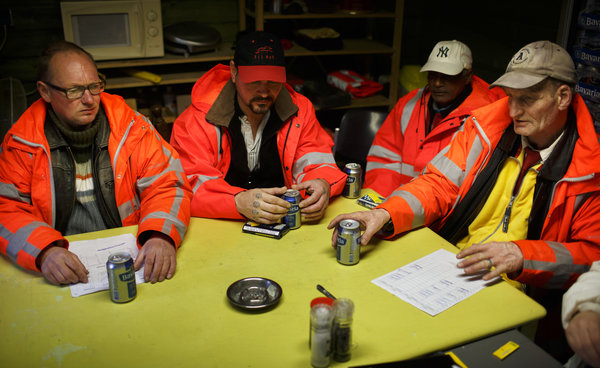 AMSTERDAM — After more than a decade out of work because of a back injury and chronic alcoholism, Fred Schiphorst finally landed a job last year and is determined to keep it. He gets up at 5:30 a.m., walks his dog and then puts on a red tie, ready to clean litter from the streets of eastern Amsterdam.

Fred Schiphorst, 60, at left, making his rounds last week. "I'm not proud of being an alcoholic, but I am proud to have a job again." Mr. Schiphorst used to be a construction worker.

"You have to look sharp," said Mr. Schiphorst, 60, a former construction worker.

His workday begins unfailingly at 9 a.m. — with two cans of beer, a down payment on a salary paid mostly in alcohol. He gets two more cans at lunch and then another can or, if all goes smoothly, two to round off a productive day.

"I'm not proud of being an alcoholic, but I am proud to have a job again," said Mr. Schiphorst, the grateful beneficiary of an unusual government-funded program to lure alcoholics off the streets by paying them in beer to pick up trash.
Absolutely genius. Can you imagine if they started this program on Cape Cod? Within three days there wouldn't be one Big Mac wrapper to be found on the ground from Bourne to Provincetown. Bums would be catching potential litter out of mid air before it even has a chance to reach terra firma.
We wouldn't have to stop there either, Coyote problem? How about a 30 pack bounty on each one? Cape booze bags would rid this peninsula of coyotes faster than St. Patrick drove the snakes out of Ireland.
The only problem is that if this program came to Cape Cod I'm afraid too many year round residents might quit their jobs and sign up. Not sure what that would do to the local economy. Maybe this program is best for areas with an alcoholism rate below 98 percent?
Thanks to Matt B. for the tip
Facebook: The Real Cape
Twitter: Hippie - Insane Tony
More Articles From The Real Cape: