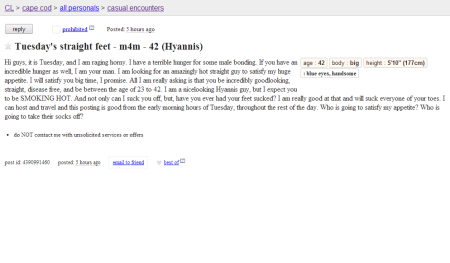 CL – Hi guys, it is Tuesday, and I am raging horny. I have a terrible hunger for some male bonding. If you have an incredible hunger as well, I am your man. I am looking for an amazingly hot straight guy to satisfy my huge appetite. I will satisfy you big time, I promise. All I am really asking is that you be incredibly good looking, straight, disease free, and be between the age of 23 to 42. I am a nice looking Hyannis guy, but I expect you to be SMOKING HOT. And not only can I suck you off, but, have you ever had your feet sucked? I am really good at that and will suck everyone of your toes. I can host and travel and this posting is good from the early morning hours of Tuesday, throughout the rest of the day. Who is going to satisfy my appetite? Who is going to take their socks off?
I get sent a few ads just like this a week and I never bother with them because I am not homophobic at all. I love the gays, I even went on a date with a gay guy once (by accident) when I lived in San Francisco. That's an entirely different post for another time though.
With that said, and with my staunch record of pro gayness in mind, I just have to point something out. What planet are these guys from where they think they are straight, but for some strange reason they just feel like having a little dick because it happens to be Tuesday? Oh and yeah, I'm looking for another smoking hot guy who is straight, but just feels like getting head from a dude, you know, 'cause it's Tuesday… wait, what?
Is there some kind of charade that the gays don't tell us about? When they say straight in this situation do they just mean closeted, but queer as a 43 dollar bill, or are there actually men out there who blow other guys just on Tuesdays and think that they are straight Wednesday to Monday? Is it possible to only be gay one day a week? Was Andrew "Dice" Clay wrong?
Facebook: The Real Cape
Twitter: Hippie - Insane Tony