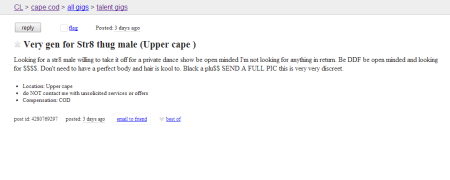 Craigslist.org – Looking for a str8 male willing to take it off for a private dance show be open minded I'm not looking for anything in return. Be DDF be open minded and looking for $$$$. Don't need to have a perfect body and hair is kool to. Black a plu$$ SEND A FULL PIC this is very very discreet.
This is great news for Cape Cod gangstas! After all these years of people telling them they look and sound like idiots because they are from Cape Cod and not Roxbury a career path has finally opened up. Turns out there is a job market in the private dancing industry that is geared towards Cape thug wannabees. I bet all those haters feel like assholes now huh?
What's that? Oh DDF stands for "drug and disease free"? Oops well I guess that rules out most of The Cape's "thugs". At least all the straight edge wankstas can sign up for this gig though…
Did you say something? It does say black is a plu$$ doesn't it? Hmm… well I guess that means the rest of the beach thugs don't qualify either. Not sure what this person was thinking when they posted this ad. Everyone knows all the black thugs on Cape Cod are white.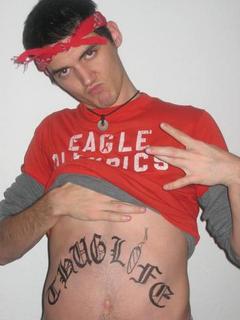 Facebook: The Real Cape
Twitter: Hippie - Insane Tony
More Articles From The Real Cape: