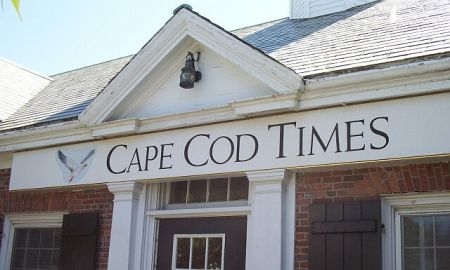 CapeCodOnline.com – Cape Cod Media Group announced Thursday that it will move the printing and packaging of the Cape Cod Times and its other publications from Hyannis to Providence, Rhode Island, by the end of March, affecting an undisclosed number of jobs on the Cape.

In a memo Thursday to staff, Cape Cod Media Group president and publisher Peter Meyer said the decision was rooted in the cost to update the printing plant's equipment. "Unfortunately, the type and age of our equipment does not allow us to effectively compete for additional printing work," Meyer wrote in the memo.

In addition to the Times, the production center at 40 Communication Way, in Independence Park, now prints The Barnstable Patriot; The Inquirer and Mirror of Nantucket; The Standard-Times of New Bedford; the five Hathaway Publishing weekly papers, which cover Bristol and Plymouth County communities; and a variety of other publications. Printing and packaging of all of those publications will be done at the facilities of The Providence Journal by the end of March.
Just so there is no misunderstanding on this one, I want to preface this by saying that we are very pro Cape Cod Times here at The Real Cape. The Cape Cod Times is a hugely integral part of Cape Cod and without it the people on this peninsula would have a serious void in their ability to get local information. I have interacted with the editor of the paper and found him to be very sincere and down to earth.
I have also personally met some people that work there and like them all, some I would consider friends. This is NOT about the people that work at The Cape Cod Times so please, do not attack me in the comments because your best friend's sister's boyfriend brother's girlfriend works at 31 Flavors with some guy that knows a Times reporter, ok? OK.
With that said it's getting really hard to support the Cape Cod Times these days. Since GateHouse got control of them they have been about as "local" as Wal Mart. First they moved their editorial and design department to Texas, yes Texas. Now they are moving the entire printing and packaging operation not just off of Cape Cod but out of state? What's next, are they going to hire some chick in Chicago to write awful lists about being "from" Cape Cod?
Maybe it's time for The Real Cape to hire some real journalists and provide insightful edi… JUST KIDDING! We'll stick to snarky, sophomoric humor and calling out morons, we know which side our bread is buttered on.
P.S. It absolutely amazes me that anyone still reads physical newspapers. The last time I picked up an actual newspaper and tried to read it I felt like I was reading a history book the shit was already so outdated. All I could picture was some 97 year old guy wearing a fedora with a press badge wedged in the banding sitting in an office with a typewriter and writing about the threat of Polio.
Facebook: The Real Cape
Twitter: Hippie - Insane Tony

More Articles From The Real Cape: