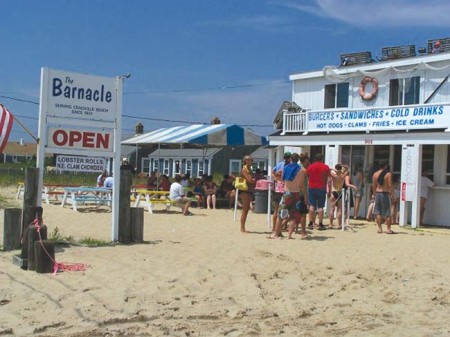 CapeCodOnline.com – The Barnacle, a snack bar at Craigville Beach that opened in 1951, has been put on the market.

The snack bar across the street from the beach has had four owners since its opening more than 60 years ago, said Shields, the owner of The Realty Advisory Inc.

"I've had a ton of interest in it," Shields said. "I've had about 20 people interested in it, probably."

The property and business at 988 Craigville Beach Road have an asking price of $425,000.
Real Cape reader Colleen sent us this and since I'm not very familiar with The Barnacle I will just let her do the talking…
It's a wonderful nostalgic shithole. Staggering over blackout drunk from the sandbox full of shitty screaming kids to get an orgasmic cheeseburger so you can continue to secretly drink your face off? I think pretty much 7/10 kids from Barnstable smoked pot back there for the first time

The coolest thing about it is it's been there for 60 years, always called the barnacle and always just as popular with longer lines than the place next door that changes owners and names every 2 years. They try to be the barnacle but they just can't. Barnstable kids love the barnacle.
Sounds like The Barnacle is about as Real Cape as it gets.
P.S. If anyone else wants to do our work for us today it would be appreciated. We have Real Cape team meetings on Tuesday nights, which means we are all extremely hung over on Wednesdays.
Facebook: The Real Cape
Twitter: Hippie - Insane Tony