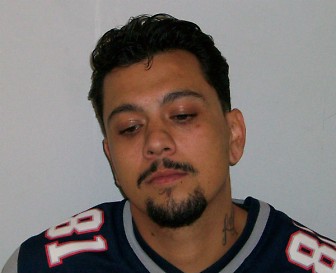 Full Story Here – DENNISPORT – Dennis police picked up a Dennis man on a default warrant Thursday afternoon and ended up charging him for a lot more after getting a peek at the contents of his backpack.

According to a Dennis police release, Det. Matt Turner spotted 27-year-old Robert Diaz walking down Edwards Ave. in Dennisport around 2:40 p.m. Thursday afternoon. Knowing Orleans District Court had issued a default warrant on a vandalism charge for Diaz, Det. Turner approached Diaz and placed him under arrest.

While searching Diaz's backpack, Det. Turner discovered several bottles of liquor that were stolen from the Ocean House Restaurant in Dennisport several nights before.
Shocking, absolutely shocking. What are the chances that the police would be suspicious of a Hispanic dude with a neck tattoo wearing a Hernandez jersey? Come on man you are literally dressed in the exact same outfit that half of New England wore as a Halloween costume this year. The cops are stopping you eleven times out of ten in that get up even if you don't have warrants. This is Chappelle 101.
Facebook: The Real Cape
Twitter: Hippie - Insane Tony