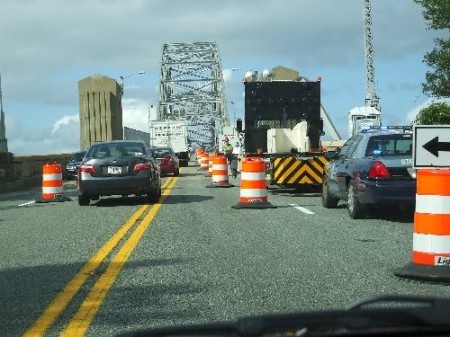 Capecodonline.com – On Tuesday another lane of the Sagamore Bridge will be closed for a $12.5 million painting project.

For the past three weeks, one lane headed on Cape was closed 8 a.m. to 4:30 p.m while the U.S. Army Corps of Engineers worked on the bridge, but all lanes were open at night and on weekends.

But starting this week, an additional lane, headed off Cape, will also be closed to traffic and the lane restrictions are possible during nights and weekends, the Army Corps said in a statement.

No wide loads will be permitted to cross the span during the lane restriction, and state and local police will be in the area to assist drivers, the Corps said.

The Army Corps advises motorists to avoid peak travel periods or seek alternate routes.
Never mind that it seems like they've been painting the Sagamore bridge since the Clinton administration, that is a rant as old as time itself. What I want to know is who issued that advisory statement in bold at the end of the article? I need to talk to this person and ask them some questions. Mainly if one ounce of thought was put into it, because that may be the most ridiculous advice ever written in the history of words.
Avoid peak travel periods? Genius! You don't want to hit traffic? Well then just don't drive when other people are driving dumbass. It's simple really, just change all of your responsibilities to between midnight and 4 a.m. I'm sure your boss/professor/coach etc. will understand and welcome your new schedule.
Seek alternate routes? Let me just repeat that one real quick, after I remind you that we are talking about THE SAGAMORE FUCKING BRIDGE… Seek alternate routes? Newsflash Army Corps spokesface… there is no alternate route, it's a bridge over a body of water to get off of a peninsula. There is no ferry, there is no tunnel, there is one other bridge and it is not what most would consider a viable "alternate route" when it comes to time.
So in conclusion, when the Army Corps' talking head tells us that the best way to evade backups is to… "Avoid peak travel periods or seek alternate routes", they should really just say… "Either quit your job or buy a helicopter".
Facebook: The Real Cape
Twitter: Hippie - Insane Tony
More Articles From The Real Cape: