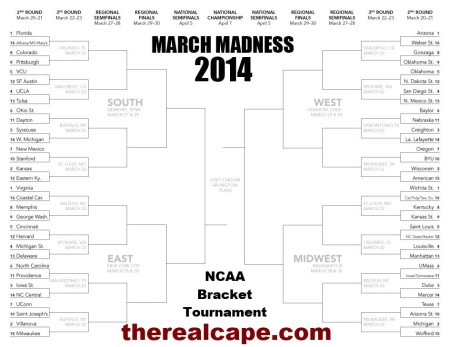 You can still enter our NCAA bracket tournament up until today at 12 p.m. To enter just register in the top right sidebar, once registered come back on the main site and there will be a link to your bracket where the registration button was in the top right. Make sure to use the red eventbrite registration button to pay your $10 entry fee as well. If you haven't paid the entry fee by noon your bracket won't count.
It looks like the winner is going to take home at least a few hundred dollars so it's shaping up to be a nice little payout for the winner. We will post the exact cash payouts after all the entries are in and editing is closed. All scores will be updated automatically every day and we will post a leaderboard so everyone knows where they stand.
If you want to see what the winning bracket looks like you can see my bracket here, and if you want to see what a mentally challenged bracket looks like you can see Insane Tony's here. Good luck everyone!
Facebook: The Real Cape
Twitter: Hippie - Insane Tony