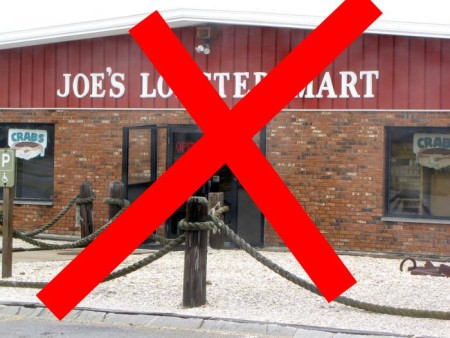 Enterprise – Joseph A. Vaudo is one step closer to returning to the seafood business.

The Sandwich Zoning Board of Appeals on Tuesday, September 8, voted 6-0 to approve a special permit for a 5,850-square-foot building on Gallo Road which would be used for wholesale and retail seafood sales, as well as for related seafood processing.

Mr. Vaudo did not attend the ZBA meeting. G-Four LLC of Sagamore Beach, a company associated with the Gallo family of Bourne, applied for the special permit. The proposed building would be built by Gallo Construction on Gallo land next to the Pilot House restaurant, which is also on Gallo land.

The Gallos plan to lease the building to Mr. Vaudo, a Sandwich resident and longtime fish and lobster dealer. Mr. Vaudo left the seafood business late last year after the state stripped him of his license.
Just when I thought I was out, they suck me back in! I was minding my own business, working on a new project, thinking The Real Cape had seen its last day… and then this. I've bit my tongue while the people of Cape Cod tried to save the lives of man eating sharks, I've bit my tongue through the demolition of homeless tent cities in Hyannis, but this? I can not bite my tongue and sit idly by as the people of Cape Cod get the Cosby treatment from Joe Vaudo.
Let's start by refreshing everyone's memory with a timeline shall we?
April 4, 2014 – Joe Vaudo of Joe's Lobster Mart pleads guilty to receiving stolen property, willfully misleading police during an investigation and failure or refusal to file required statistical reports of wholesale and retail dealers. Ordered to pay $6,250 in fines, permit and licensing hearings scheduled.
October 4, 2014 – The state Department of Public Health issues a cease and desist order and a decision to revoke the fish dealer's licenses to buy and sell fish, prompted by his March conviction for receiving stolen oysters.
October 7, 2014 – John Kiernan, an attorney for Joseph Vaudo, the shop's owner, filed for and received a temporary restraining order allowing the shop to remain open.
Joe screwed over his community on a myriad of levels. Honest hard working people are working their ass off to provide him with the shellfish that he sells to other honest hard working people under the pretense that he is buying them from the honest hard working people in the first place. Instead he bought unregulated, stolen crap that, not only did he get at a discount that he didn't pass on to the consumer, he got them from a guy who stole them directly from hard working Cape Codders, Joe also posed a health risk to the people of this community since the shellfish were never inspected. In essence Joe Vaudo had a vertical monopoly on fucking over Cape Codders, he was fleecing us at every link in the chain, from farm to table if you will.
Octover 17, 2014 – The staggering scope of the fleecing of Cape Cod and the taking of livelihoods is released: Michael A. Trudeau, first assistant district attorney for the Cape and Islands, ticked off the thefts:• 9,000 oysters on June 15 from two private grants and a grant owned by the Town of Dennis
• 12,000 oysters on July 19 from a private grant
• Oysters worth between $7,000 and $10,000 on July 23 from a private grant
• 3,000 oysters on July 29 from a Town of Barnstable grantMr. Bryant proceeded to acknowledge to Judge Gary A. Nickerson, who was hearing his change of plea to guilty, that he had stolen the oysters."So on all these times when you stole the oysters, what did you do with the oysters?" Judge Nickerson asked."I sold them, sir.""Where?""To Joe's Fish Market.""On all the various occasions?"

"Yes, sir."
Remember, this is just what we know about. One can only imagine the amount of pilfering this guy was a part of over 35 years. Joe Vaudo stole the livelihood of Cape Codders, they could have been, and might as well have been your brothers, fathers, daughters, he stole from all of us. He was caught red handed, and so far in our timeline he has been allowed to continuously operate his lucrative business during the busiest six months of the year. In other words, Joe has yet to be punished for his crimes.
October 23, 2014 – Joe's Lobster Mart given two weeks to sell off the lobster, fish and other stock before closing the doors giving the business a date of 12/7/14 to stop operating.Suffolk Superior Court Judge Thomas Connors denied owner Joseph Vaudo's request for a preliminary injunction against the state Department of Public Health, which revoked Vaudo's licenses to sell fish and shellfish at the Cape Cod Canal warehouse.
December 9, 2014 – Joe's Lobster Mart is reopening under new ownership. The long-time general manager of Joe's Lobster Mart, is sub-leasing the building from Joseph Vaudo and has received permission from the state Department of Public Health to reopen…Thayer declined to comment on the specifics of the business deal between himself and Vaudo, except to say that his long-time boss would have no role in the day-to-day operation of the business. Vaudo, who leased the property from the U.S. Army Corps of Engineers, is essentially Thayer's landlord.
TWO DAYS. Joe's was closed for two days and then this. If you believe that Joe Vaudo handed over his business, name, all of his equipment and infrastructure to this guy and he only received rent for the building in return then you are a certified moron. There is no chance that the deal between these two was for a lease based on fair market value of the square footage of the building only. Joe got the lions share of the profits, I'd bet my life on it.
Joe Vaudo was convicted of crimes. What he did undermined an industry that is sacred on this peninsula. His punishment was handed down and it was that his seafood business was supposed to cease to exist. That was the decided upon punishment, whether you agree with it or not. With this bullshit deal between these two he was not forced to lose anything. NOTHING. Joe Vaudo circumvented the law in a blatant fashion and continued to profit from the industry he fucked over when it was deemed that he should no longer have that right. Simple as that.
May 09, 2014 – Joseph Vaudo is finished as a Planning Board member, ousted by the write-in campaign of Robert King. He had been running unopposed for the three-year seat until last week, when King decided to launch a write-in campaign. King easily outdistanced Vaudo 1,212 to 604. 
All seems right with the world, the people have spoken, the public backlash has cost Vaudo his seat on the Planning Board. The Corps of Engineers will finally not renew the lease for Joe's Lobster Mart at the end of the summer in 2015. It's a long time coming, but maybe Joe will suffer some consequences for his actions after all.
May 20, 2015 – Joseph A. Vaudo, who lost his seat on the Sandwich Planning Board following a guilty plea in a criminal stolen oyster case, has returned to that board. Mr. Vaudo, who lives on Route 6A, won a three-year term on the board with 38 write-in ballots in the Thursday, May 7, town election, according to the town clerk's office.
In one of the sneakiest moves in election history, Joe doesn't add his name to the ballot knowing that people will actively vote against him, but knowing there is nobody running he gets 38 people behind the scenes to write his name in. Essentially, not unlike the shellfish he sells, Joe Vaudo steals the election. Even the chairman of the committee said he should have been unseated because of the circumstances. The greatest move the devil ever pulled was convincing the world he didn't exist.
This brings us to the current date. The very planning board that Joe got himself back on has just OK'd a brand new building for him to operate in the same industry he completely undermined. ONE WEEK after Joe's Lobster Mart finally closed its doors, Joe has a brand new, bigger and better building going up. If you are keeping count, Joe's entire punishment for buying and selling tens of thousands of pounds of stolen shellfish has been $6,250 and just a handful of days without his business being open. Now that is a fleecing of the system and the people that is so impressive and devious that you almost have to respect it.
Most people would go to jail for buying or selling stolen goods worth that much money. The guy who stole them did go to jail as a matter of fact. Joe, by moving around some names, doing a little paperwork, and staying one step ahead of the system, has managed to not only keep his business open throughout this ordeal, but will actually end up in a better position because of it.
Where is the justice? What about the men and women that had their entire years crops taken from them? What about the other shellfishermen that struggled with their mortgage because they were forced to compete with stolen prices? What about the unknowing residents that were not only put in danger, but became unwitting accomplices to a dastardly criminal operation they would never support on purpose? Where is the justice for all of the people Joe hurt?
Unfortunately it seems that once again, money, deception, cronyism, smoke and mirrors will always win. If I thought it would make any difference I would say the people of Sandwich should fight back. They should truly boycott Joe's. They should be absolutely sure to show up at any hearing, vote in every election, tell a member of the Gallo family how disappointed they are in them for getting in bed with a cancer on their community, maybe tell the people of Sandwich they should write letters or put a sign in their yard expressing their anger.
The problem is that the honest, hard working people getting fleeced don't have the time to worry about Joe, nor do they have the extra resources to fight the process. The Joe Vaudo's will always win. Money, deception, cronyism, smoke and mirrors will always win. Sleep tight Cape Cod.
Facebook: The Real Cape
Twitter: Hippie - Insane Tony - Bonzai