As if two stages with eight bands aren't enough music for one day at The Real Cape Music Festival, we've now added a third busking stage with five more bands to play during the breaks and make sure the music doesn't stop for a moment. The Lineup for the busking stage is…
Mike Machaby Trio
Brady Signs
Better off Dead
Brendan Princi
The Silent Trees
Posting here at The Real Cape will be limited for the rest of the week. We've already started construction at the Cape Cod Fairgrounds and we will be posting photos and updates of the progress as well as some more surprise announcements. It's taking us all week to get ready this year because this event is so big we couldn't hold it at the Main Stage of the Fairgrounds, we needed to bring in some huge festival stages and use a much larger field than the one where concerts are usual concerts held.
The new bigger concert area is coming together nicely. Don't forget we will have the Kidsville area on the grounds (but separated from the partying area) with everything from face painting to an interactive stage where kids can play provided instruments to get in the musical spirit. For the kid in all of you adults we've also added some backyard type games near the beer and wine vendors. We've got Kan Jam, Cornhole and Giant Beer Pong in strategic locations.
There will also be a giant wall where Wellfleet artist Andrew Jacob will be painting live, as well as a giant Real Cape sign with 8′ tall lettering that we will be using as our festival guest book to give all of you festival goers a chance to sign your names, write a poem or leave a love letter for Insane Tony.
We will be publishing a huge list of food vendors, retail kiosks and other attractions in the next few days. Folks, we can't stress enough just how huge and action packed this festival will be. Trust us when we say that you do not want to miss this. The weather looks perfect so there is no excuse to not come party with thousands of the most fun loving people on Cape Cod. This event will be talked about for months to follow, don't be the only one of your friends to miss out on the conversation.
CLICK HERE to get advance tickets and save yourself some money before the price goes up
CLICK HERE to view the festival grounds site map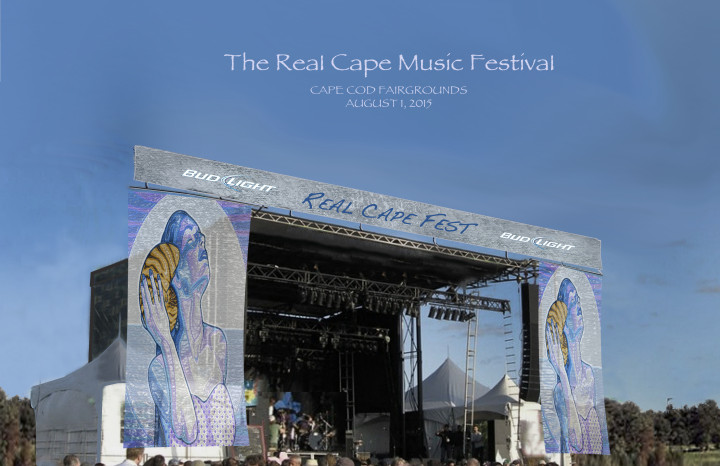 Facebook: The Real Cape
Twitter: Hippie - Insane Tony - Bonzai