By Hippie
23 Oct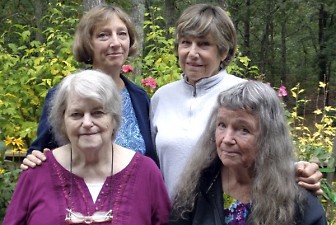 MC – Four Cape Cod women were convicted of trespassing at the Pilgrim Nuclear Power Station following a three-day trial in Plymouth District Court.

Diane Turco, Susan Carpenter and Sarah Thatcher, who had been previously been convicted of the same charge earlier this year, were given 30-day suspended jail sentences. Mary Conathan was fined $100.

The four defendants used what is called the necessity defense, arguing that the Pilgrim Station presents an immediate threat to public safety.  In her closing argument, defendant Diane Turco, who represented herself, called the radiation emitted from the plant "a continuing accident."
Great job by the courts on this one! It's imperative that we let the elderly know that they can't just go around putting flowers wherever they want just because they are concerned that if the Nuclear power plant with the worst safety record in the country melts down that a quarter of a million Cape Codders will most likely die.
It's tough to complain about so many thieves and drug dealers getting arrested but managing to stay on the streets when you realize that it is heinous geriatric horticulture crimes that are taking precedence. The courts need to prioritize and I for one am willing to trade a few plea deals for violent offenders knowing that it's because we needed to focus our resources on throwing the book at the Golden Girls!
Finally we can all get a good nights sleep knowing that this riff raff has been convicted and punished accordingly. I just wish they hadn't suspended their sentences and locked them up for the 30 days to really teach these bitches a lesson.
Twitter: Hippie - Insane Tony - Glitter Ginger - Bonzai - Ham Sandwich
Facebook: The Real Cape - The Glitter Ginger