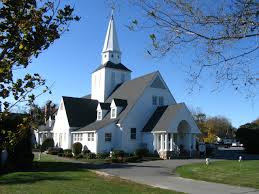 CapeCodOnline.com – The state Supreme Judicial Court on Wednesday upheld the dismissal of a defamation lawsuit filed by a former Falmouth priest against two other priests, agreeing the suit was filed beyond the statute of limitations.

In November 2010, the Rev. John P. Harrington, formerly a priest at St. Patrick's Church on Main Street in Falmouth, filed suit in Norfolk Superior Court against the Rev. John H. Perry – the former pastor of St. Patrick's – and the Rev. William M. Costello, the former pastor of St. Anthony's Parish in East Falmouth.

The suit stems from an incident beginning in January 2005, when Costello told Perry that a parishioner of St. Patrick's had accused Harrington of stalking her minor son, according to the court decision. In response, Perry told the two directors of religious education at St. Patrick's about the accusation against Harrington, according to the decision.

Perry then informed Harrington of the accusation, which was false, the decision says.

In response Harrington spoke with Costello, who told Harrington the accusation had not been made by a parishioner but by the parishioner's co-worker, according to the decision. Costello refused to give Harrington the name of the co-worker.
Good lord, Cape Cod drama runs so deep that even our priests play He said, She said. Whatever happened to separation of church and state anyway? These priests should have to take their squabbles to Judge Judy. If you aren't gonna pay taxes then you certainly shouldn't be able to clog up our courts more than they already are.
Besides, isn't the idea of catholic priests going to court kind of an oxymoron? What happened to Matthew 7:1? You know, that crap about judge not? Doesn't really jive with suing each other since there's something called a JUDGE in court. Plus why does this guy care about these priests being judged by a mere mortal, shouldn't he be confident that The Almighty will sentence them to hard time in the fiery pits of hell for all of eternity?
Better yet, practice what you preach and forgive them. Not so easy when shit happens to you is it Mr. Can't Let It Go?
Facebook: The Real Cape
Twitter: Hippie - Insane Tony