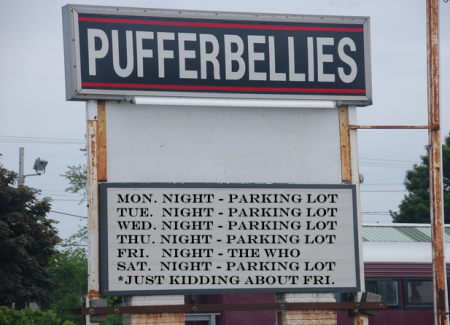 CapeCodTimes.com – Pufferbellies Nightclub, along with the 2.36 acre property it sits on, has been purchased for $1.96 million by a trust on behalf of Hy-Line Cruises, said Philip Scudder, Hy-Line vice president of marketing.

The locally-owned ferry company made the deal for the property on Route 28 next to the railroad tracks at the end of May, according to Scudder and town assessors records. It was bought to serve as off-site parking for future ferry-goers heading to Nantucket and Martha's Vineyard, he said.

"We have been looking for off-site parking for several years," Scudder said, "We've been anticipating growth in the market and we are pretty much at max capacity here on Ocean Street."

Because it still holds a two-year lease, Pufferbellies will continue to operate this summer and have the option of operating through next summer as well, according to Scudder. Hy-Line will not begin redevelopment on the property until the lease expires, Scudder said.
First they turn the Mill Hill into a retirement home, and now Pufferbellies is going to be a parking lot. Another dagger in the heart of the old Cape Cod. Granted, the last few years haven't been stellar for Puff's, but back in the day the place was legendary. Our Keller Williams and The Wailers shows there were absolutely amazing, the place had so much potential.
The Real Cape actually tried to buy Pufferbellies last year, we had a verbal deal done and the owner flaked on us at the last minute on the day before we were supposed to sign papers. We were going to close it for a few months to restore it to its former glory, then re-open it as The Cape Cod Music Hall with a steady stream of national acts while giving local bands a top notch venue to cut their teeth at.
Apparently the owner figures a parking lot is more vital to Cape Cod than a bad ass music venue. Kinda strange since he is an entertainer and musician himself. Oh well, people gotta park somewhere right? It's just too bad that they had to murder another Cape Cod institution just to make room for a bunch of SUV's with Connecticut plates.
Do a little moment of silence today and pour a little beer on the ground for our dead homies, because Cape Cod just took another step closer to the grave. I have a sneaking suspicion that retirement homes and parking lots aren't quite the attractions that the young people and vacationers are looking for when deciding where to spend their time and money. Sad day indeed.
Facebook: The Real Cape
Twitter: Hippie - Insane Tony
More Articles From The Real Cape: