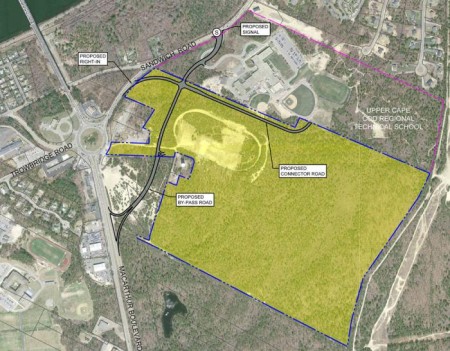 CapeNews.net – Geoff Spillane – Stop & Shop has proposed building a small network of roads on a swath of undeveloped land that it owns abutting the Bourne Rotary, affording drivers the opportunity to bypass the rotary altogether.

The roads would be built off MacArthur Boulevard, just east of the rotary, on the former proposed site of Canalside Commons. The supermarket chain, under the name of Rotary Development LLC, bought the 152-acre site last October but has yet to say how the rest of the property will be developed.
Listen, we love progress as much as anyone, but this seems like a completely awful idea. You are taking what is literally the busiest one mile stretch of road on Cape Cod, a section that is already a complete clusterfuck, and you are adding five points of entry and exit as well as a traffic light? Oh and also construct a giant retail operation that will attract even more cars to a section of highway that is already a parking lot in the summer? Fuck. That. Shit.
Take a close look at that map. Did you notice that if you want to leave Stop and Shop and go south on 28 that you need to go up to Sandwich Road and then back down through the rotary? That is fucking bananas, how can that possibly help the situation? Not to mention, they still have no idea what else they are going to use the rest of the land for? Throw in a Lowe's or a Bed Bath and Beyond and the only possible way to get anywhere near the Bourne Bridge from the Cape side will be to lower your car from a fucking helicopter.
I have a great idea, how about we reject this on the grounds that it makes no sense whatsoever to add congestion to the single most congested place on Cape Cod, open up Nauset Spit, and turn this 152 acres into a Piping Plover sanctuary. Win for everyone. Thank me later.
Facebook: The Real Cape
Twitter: Hippie - Insane Tony
More Articles From The Real Cape: