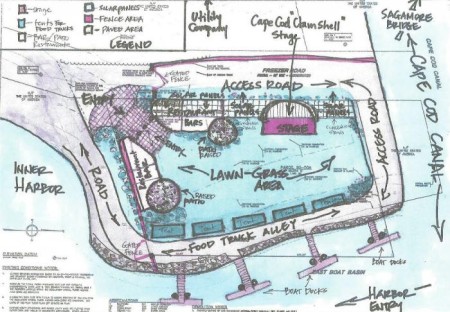 CapeNews.net – An outdoor entertainment space, complete with a clamshell amphitheater, has been proposed for the former freezer building property next to the Cape Cod Canal.

Town officials began going over the proposal for 20 Freezer Road at a July 9 site plan review meeting. Artist's conceptions of the project were provided to the Sandwich Economic Initiative Corporation at its meeting Monday.

The conceptions list a target date of summer 2015.

Mark Manning, a longtime Boston restaurateur, is the primary developer on the project, according to project spokesman Paul Cleary.

As currently conceived, the "Cape Cod Clam Shell" amphitheater would be placed on the western side of the 1.19-acre parcel that fronts the Sandwich Marina. A large bank of solar panels would be installed along the western edge.

Restaurants and bars with outdoor patios would be built on the southwestern and southern sides of the parcel on either side of a large entry plaza at the southwest corner.

A large grassy lawn would cover most of the rest of the parcel.

People sitting on the lawn looking at the amphitheater would see NRG Energy's Canal Electric plant to the left and the Sagamore Bridge to the right.
Everyone remembers The Real Cape Fun Police test right? If it is wicked fucking awesome, then they will come out in force to stop it? Well this, my friends, could not be any more wicked fucking awesome. This would be the best thing to happen on Cape Cod since they started selling beer on Sundays so I am 197% sure the Fun Police will come out in droves to fight against this project.
When it comes time for these people to get permits, we need to rally the silent majority and fight the Fun Police like we've never fought them before! We shall not flag or fail. We shall go on to the end, we shall fight in Sandwich, we shall fight on the Canal and Bay, we shall fight with growing confidence and growing strength in the air, we shall defend our Peninsula, whatever the cost may be, we shall fight on the beaches, we shall fight on the bridges, we shall fight in the fields and in the streets, we shall fight in the bogs;
We shall never surrender, and even if, which I do not for a moment believe, this Peninsula or a large part of it were subjugated and starving for fun, then our brethren beyond the Canal, would carry on the struggle, until, in God's good time, younger people, with all their power and might, step forth to the rescue and the liberation of the old grumpy bastards on Cape Cod.
P.S. Free T-Shirt to the first person to comment with the name of the person I just blatantly plagiarized.
P.P.S. How awesome is going to feel when this finally opens 18 years from now and it's nothing but Michael Bolton and Barry Manilow concerts and shit?
Facebook: The Real Cape
Twitter: Hippie - Insane Tony
More Articles From The Real Cape: