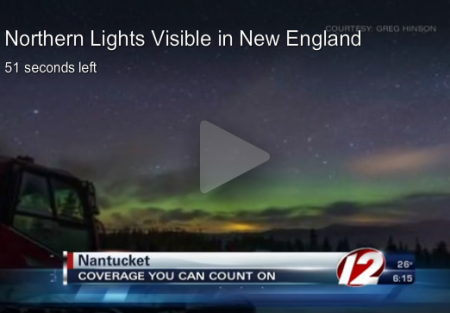 WPRI – A solar storm is sparking a spectacular show in the sky.

The Northern Lights were visible across the country on Tuesday night, and many New Englanders got to see the breath-taking phenomenon.

And although temperatures were frigid, that did not stop viewers from pointing their cameras at the sky.

Greg Hinson recorded spectacular views of the aurora in Nantucket, while Jamie Walter got some great shots at Sugarloaf Mountain in Maine.

Matthew Cappucci shot an incredible time lapse of the event from Bourne on Cape Cod.

Charles Goiun, a Chepatchet native, took an incredible photo in Spencer, Mass.
Light show by Mother Nature! We've had our head in the sand filming all week but it would have been nice to know about this. The closest I've ever come to seeing the northern lights was years ago when my buddy crossed it with some haze. We saw something that looked like crazy lights in the sky every night for a month, but it turned out it was just a 7 Eleven sign. Needless to say we did some excessive snacking that month. Good times.
Facebook: The Real Cape
Twitter: Hippie - Insane Tony